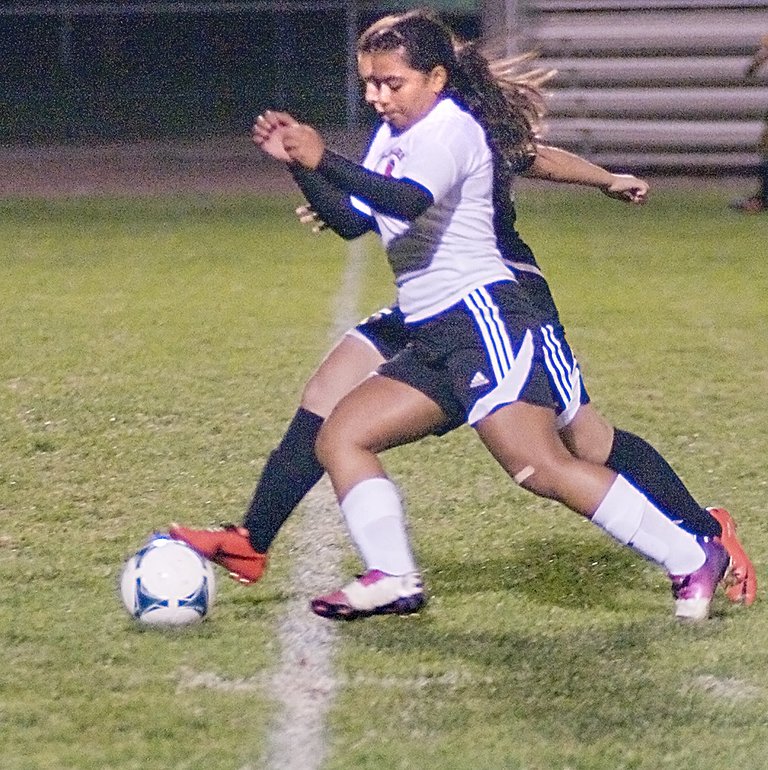 Wednesday, October 16, 2013
/lk
For a half the Sunnyside Lady Grizzly soccer team went toe to toe with visiting Davis before falling 3-1 in Big Nine action last night.
Davis got on the scoreboard in the 23rd minute to go up 1-0, but the Lady Grizzlies answered with a score in the final minute of the opening half. What proved to be Sunnyside's lone score came on a goal by Susana Arreola.
Things looked good at the break, but Sunnyside Coach Sylvia Villagrana said she cautioned her team at intermission to improve its communication.
The Lady Grizzlies weren't able to follow the advice, and the Pirates took advantage with goals in the 47th and 50th minutes to seal the victory.
Villagrana said her team struggled not only with communicating on the field, but on sticking close to Davis' forwards. "It's not the outcome we wanted," she said.
Sunnyside has now lost three consecutive matches, after winning three of its four previous games.
There was some good news for Sunnyside last night in that some of its players returned from injury and academic ineligibility.
The Lady Grizzlies were outshot Tuesday night by a margin of 13-to-9. Keepers Vanessa Loera and Victoria Torres combined for 12 saves to help keep Sunnyside close.
Sunnyside (1-6, 5-6) returns to action tomorrow, Thursday, when it travels to West Valley for a non-league match.