Friday, October 11, 2013
/lk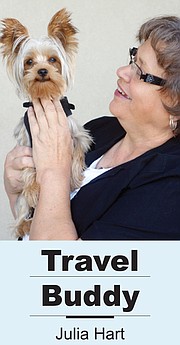 I love packing up Buddy and hopping in the car for quick little jaunts around the Lower Valley. He is always pointing out items of interest to me. He has a keen eye and notices everything. I know this because he barks whenever he finds some-thing of interest. As it turns out he barks a lot.
Just this past Sunday af-ternoon Buddy reminded me I had vowed to attend the Over the Hill Theatrical Company's production of "Snow White and the Seven Dwarfs."'
I hadn't been to Prosser's Princess Theatre since my granddaughter Lizze had performed in the "Taming of the Shrew" over a year ago. I didn't have Buddy at that time, so I thought he might like to see the former movie theater turned performing arts center.
So we loaded up for the short drive to Prosser to watch the on-stage produc-tion. Buddy wanted to watch the play, but he couldn't guarantee me he would not burst out barking at inappropriate moments.
So, he elected to sleep in the van, while I applauded the cast for their very fine final performance of the classic children's fairy tale. Everyone I talked to told me I had chosen the right per-formance to attend, as it was their best one yet. I enjoyed it very much, and I especially enjoyed seeing all my old theatre friends.
On the way home, while Buddy again checked out the scenery, I shared my favorite moments of the play. Buddy and I both got a chuckle about the scene in which Snow White not only cleaned the Seven Dwarfs' little woodland cottage, but the stage of the wicked queen's table of potions. The queen's evil props had been inadvertently left be-hind by the set changers.
Snow White, played by Debbie Mendoza, was very thorough, staying in charac-ter as she whisked away the unnecessary flotsam. The wicked queen, played by Julie Trumble, was suitability fiendish but seemed a tad ungrateful for the help when a few scenes later she made her third attempt on Snow White's life.
I know Buddy would have gone ballistic when the wicked queen in disguise as an old woman started shrieking at Snow White to eat a poisoned apple. Buddy doesn't like mean people. My friend Karen Santos was wonderful in that part.
I told Buddy I thought he would have enjoyed the seven dwarfs as they were happy, protective and liked to skip and dance around a lot. They really liked to eat. Buddy is a lot like that, too.
I would hope Buddy will have a firmer resolve to bet-ter behave for the next play we might decide to attend. I think he would really relate to a musical about an aban-doned dog finding a new home and master.
I heard a rumor that the Valley Theatre Company may be doing "Annie" in the spring and there is a cute little stray dog named Sandy as one of the stars.
Buddy will have to try really hard to be good so he can actually watch that show. The play is still months away so we have time to quiet his enthusiasm. We'll see.