Monday, October 7, 2013
/lk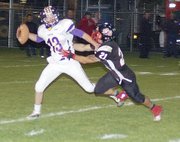 Despite scoring a pair of fourth-quarter TD's, the Sunnyside High School football team came up short in its homecoming game against the Hanford Falcons last Friday.
Hanford, thanks to a Will Bishop 1-yard plunge into the end zone with just under seven minutes to play, fended off the Grizzlies' late charge to secure a 26-15 victory. For Bishop, who rushed for 47 yards on eight totes, it was his second touchdown on the night.
The win pushed the Falcons' overall record on the season to 2-3. Sunnyside fell to 0-5.
Trailing 19-3 after three quarters of action, Sunnyside came to life in the final stanza. The Grizzlies, who only had a 22-yard field goal by Thomas Waywell up to that point, got to within 10 points of the Falcons when senior running back Marcus Sanchez snapped off a 14-yard TD run.
Sanchez ended up as Sunnyside's leading rusher, netting 69 yards on only eight carries.
Bishop notched his second touchdown run of the game on the ensuing drive by Hanford, which pushed the Falcons' lead back out to 26-9.
The Grizzlies found pay dirt again, however, when sophomore QB Anthony Herrera tossed a 6-yard scoring strike to senior Jesus Magallan. But with just over a minute to play, Sunnyside was unable to get any closer than the final 26-15 score.
Stat-wise, the two class 3A teams pretty much mirrored one another.
Sunnyside tallied 99 passing yards, compared to Hanford's 130 yards through the air. Both quarterbacks, Herrera and the Falcons' Aaron Enderlin, each threw for one score and each got picked once.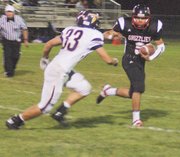 Herrera's favorite target Friday proved to be junior Timmy Martinez, who netted three receptions for a total of 40 yards. Herrera also found junior Oscar Noriega open twice, who hauled in two passes for 54 yards. Enderlin hooked up with wideouts Ben Kelly and Tyler Miller a total of seven times, which was good for 73 yards.
On the ground, Sunnyside piled up 133 rushing yards – with Sanchez and Magallan paving the way with 69 and 43 yards, respectively. The Falcons totaled 152 yards on the ground – with Elwood Davis, Malik Slack and Bishop leading the way with 54, 50 and 47 yards, respectively.
Hanford opened Friday night's scoring with a 21-yard field goal off the foot of Damyian Marks midway through the first quarter. After stopping Sunnyside on its next drive the Falcons pieced together a march down the field. It ended with just over two minutes left in the opening quarter, when Enderlin hit Miller with a 16-yard TD toss.
A 5-yard TD run by Bishop just past the midway point of the second quarter boosted Hanford's lead to 16-0.
The Grizzlies averted getting shut out in the first half when Waywell booted a 22-yard field goal with just six seconds remaining before intermission.
Sunnyside has now completed the non-league portion of its schedule. Its five remaining games are against class 4A Big Nine League foes Moses Lake, Eastmont, Davis, Eisenhower and Wenatchee.