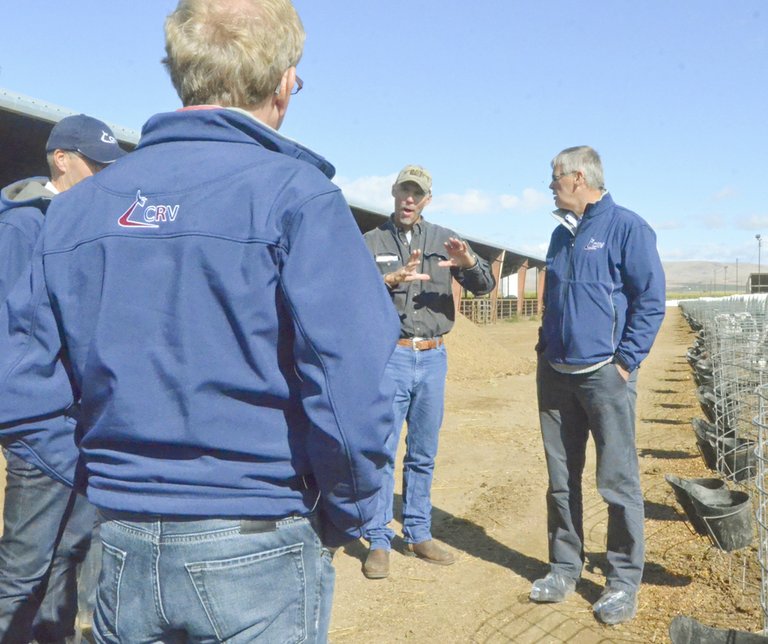 Tuesday, October 1, 2013
/lk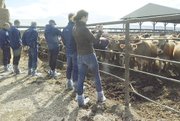 A group of dairymen from the Netherlands was in the Sunnyside area yesterday, learning about the local dairy industry and how one dairy farm has been adjusting to meet the needs of the market.
The Dutch dairymen toured J&J Bosma Dairy's Isaacs Road operation near Outlook.
Jeff Bosma led the tour, explaining why his dairy is changing from a Holstein operation to a Jersey cow operation.
He said the cows are smaller and the milk production is not as high as Holsteins. However, Jersey cows produce milk that is both higher in butter fat and in protein.
Jersey cows produce approximately 55 pounds of milk on a daily basis as opposed to the 80 or more pounds produced by Holsteins.
Bosma said, "Jersey cows tend to be healthier."
He said the goal is to have cows that live longer. Jerseys, he told his Dutch counterparts, can last for four lactations.
Another benefit, said Bosma, is that the Jerseys are more reliable breeders.
He has been reducing the Holstein herd at the local dairy and said so are many other dairymen in the U.S. He told the Dutch farmers that the number of Jersey dairy operations are up from 5 percent about a decade ago to approximately 10 percent of U.S. dairies.
"I have looked at crossbreeding," Bosma told a Dutchman who asked about breeding Jerseys with Holsteins. However, he said, there isn't a market for crossbred cows of that kind.
Bosma said the market is very particular. He uses "sex semen," which is gender-specific semen for breeding purposes.
"Jersey bulls have little value…bull calves are a liability," said the local dairy farmer.
He said Jersey cows on his farm are bred for milk production, but he also sells them to other farmers.
Melissa Leatherman, a product specialist with CRV Semen Company, also helped with the tour. She told the Dutchmen her company is fielding more requests for Jersey stock than ever before.
Dutch dairy farmer Kees Gorter said the tour group learned from Bosma that farming of any kind is a balancing act worldwide.
"I am hearing from Jeff farmers have to be more efficient," he said. "We're all having the same issues."
Gorter has 200 head of Holstein cows on his farm. He said there is a fine balancing act both in the Netherlands and the U.S. when it comes to land use, food production for humans and production for farmers.
"We have to be more efficient for sustainability," he said. "It's a balancing act…Jeff has to make do with what he has."
After visiting Bosma's dairy the group of Dutch dairy farmers traveled to a dairy near Pasco.
‑ Jennie McGhan can be contacted at 509-837-4500, or email
JMcGhan@DailySunNews.com