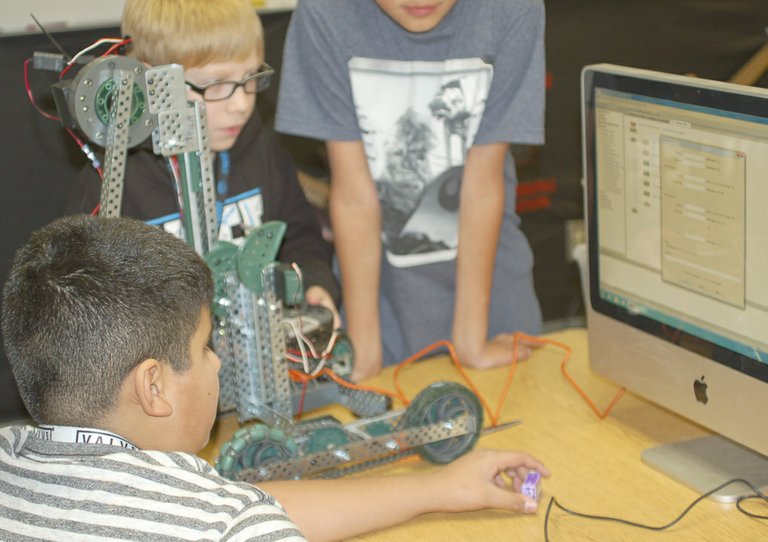 Friday, November 29, 2013
/lk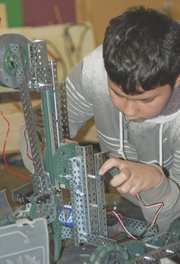 Wheels, gears and bands of steel held together with nuts and bolts can occupy hours of time for the young engineers taking part in this year's robotics after-school activities.
From Harrison Middle School to Sunnyside High School, students are learning the joys of engineering while working with robots that will be pitted against one another in a competitive arena for bragging rights and acclaim.
Among those building VEX robots are members of Wolf Gaming, made up of a small group of seventh graders who couldn't be a part of the Harrison Middle School robotics club because of funding.
The Grand Theft Robot team formed earlier this school year when it was discovered there wasn't enough funding for their team.
"Most of the district's robotic programs are funded in part by the GEAR–UP program, which are targeted at eighth and ninth graders," said the new team's advisor, Kari Bliesner.
Because of her son Austin's interest in robotics developed during last year's middle school competition, Bliesner decided to find alternative ways to support the club.
Since organizing the club, Bliesner has been on a campaign to raise money to cover the cost of the robots, the necessary additional parts, tool kits as well as event entry fees and travel expenses for the seven-member team. So far her estimates place costs at more than $1,300.
Bliesner said the team has learned to build and program their robot and to compete against other middle school and high school teams.
Recently the Grand Theft Robot team competed at the Sunnyside VEX robotic competition, and at an event sponsored by Toppenish High School.
"We're looking forward to competing in more events this year and hopefully we will qualify for regional competition," said Bliesner.
In the meantime, the Grand Theft Robot team works at the high school in science teacher Spencer Martin's STEM classrooms, alongside high school robotic designers, honing their skills and learning the finer points of working as a team.
"They are also learning design, computer programming and engineering techniques, improving their math and science skills," Bliesner added.