Tuesday, November 26, 2013
/lk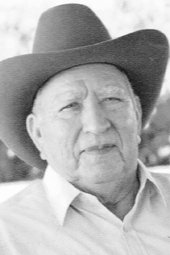 On Sunday, Nov. 24, 2013, Refugio Arteaga, 86, of Grandview went to the Lord, surrounded by his family and friends. Heaven became a little brighter on Nov. 24, 2013, as Refugio A. Arteaga was received into Christ's loving arms. His ability to light up a room with his smile and ability to forgive, his silent strength in times of adiversity and strong belief that his family was a priority was felt by everyone who came into contact with Refugio.  He saw his wealth in his children and grandchildren, which he loved very much.  He will be greatly missed and loved for all eternity.
He was born in Jalisco, Mexico. As a young man he immigrated to the U.S. to live the American dream. He became a U.S. citizen and made his home in Grandview for the last 50 years. 
He started as a farm laborer, worked as a warehouse employee and then as a custodian for the Grandview School District from which he retired. 
Refugio is survived by his wife of 60 years, Dolores Arteaga; his son, Castulo (Cus) (Candy) Arteaga; his daughters, Benita Arteaga, Mary Arteaga and Tony Najar; 10 grandchildren; and four great-grandchildren, with one more on the way. 
He was preceded in death by his parents; two brothers; four sisters; and one son, John Arteaga.
Our father enjoyed gardening, planting trees at each of our homes (he felt everyone needed shade), driving grandkids and their friends wherever they needed to go, relaxing at the casino, Sunday morning church service with his coffee and chocolate chip cookies, and most importantly, he loved the family barbeques. Thanksgiving lunch and Christmas dinner were always very special to him because he was surrounded by his family.
Our family would like to thank all of the pastors, family and friends for their prayers and support during this time of need.  We also want to thank all of the doctors, nurses and health care providers at the Prestige Nursing Home who helped our father.
A viewing will be held Sunday, Dec. 1, 2013, from 5:30 to 7 p.m. at Smith Funeral Home in Grandview. A Christian funeral service will be held Monday, Dec. 2, 2013, at 10 a.m. at the Nazarene Church in Grandview, followed by burial at Grandview Cemetery.  
Those wishing to sign Refugio's on-line memorial book may do so at www.funeralhomesmith.com.
Smith Funeral Homes LTD and Crematory is in charge of arrangements.
More like this story