Monday, November 25, 2013
/lk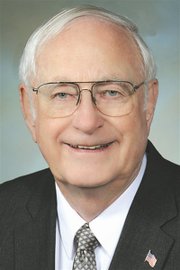 OLYMPIA - Sen. Jim Honeyford (R-Sunnyside) last Wednesday accepted the Washington State Farm Bureau's Legislator of the Year Award for an unprecedented third time. The Sunnyside Republican also received the award in 2003 and 2007.
"It's always an honor to receive an award, but I'm particularly humbled by this one," said Honeyford.
"Working on our state's farm, ranch and agricultural issues is one of my highest priorities, so it's truly rewarding to again be named legislator of the year by the Washington State Farm Bureau," Honeyford said.
The farm bureau presented the award to Honeyford in recognition of his ongoing work on the Yakima Basin Integrated Water Resource Management Plan, which identifies a comprehensive approach to water resources and ecosystem restoration improvements in the Yakima River Basin.
Honeyford was elected to the House of Representatives in 1994 and to the Senate in 1998. He is the ranking Republican on the Senate Water, Energy and Telecommunications Committee.
The 15th Legislative District senator has been active in water, energy and labor policy over the years, including playing an instrumental role in the passage of the Columbia River water supply bill. In 2007, he sponsored a bill to fix the Right to Farm Act and he helped champion the measure that would have exempted agriculture from the Growth Management Act.