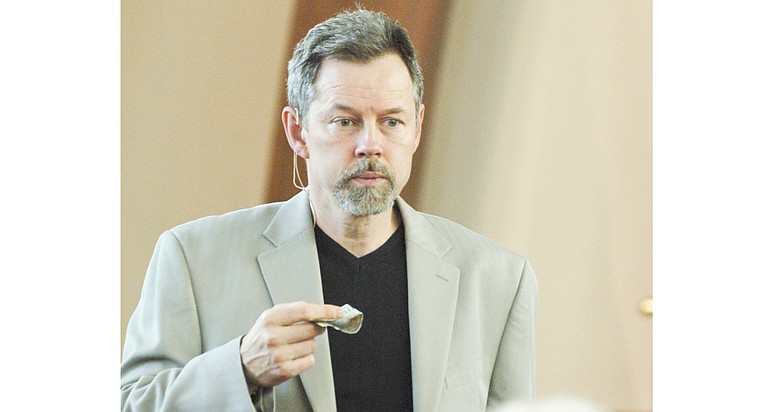 Tuesday, November 19, 2013
/lk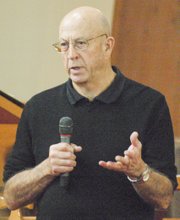 A key theme of the Matters of Life & Death workshop held at the Sunnyside Presbyterian Church this past Saturday morning was communication.
In the opening session, Rev. Kirk Ruehl spoke about the importance of families having a conversation with their loved ones about end of life planning.
"People don't have the conversation until the conversation needs to happen," he said. "I've been in the emergency room at 2 a.m. far too many times."
Ruehl said that lack of planning leads to families making tough decisions when they are not at their best and don't know where to start.
"Do you want to have that discussion in the emergency room, or have your doctor do it for you?" he asked.
He told the workshop attendees that this sort of planning for death has a strong precedent in the Bible. He related the tale of the death of Jacob, who brought his family together before he died for a discussion of what to do with his remains.
Ruehl suggested workshop attendees visit theconversationproject.org for information on how to broach the subject with a loved one, then played a short video from the website.
Paul Hart, attorney, then spoke about the legal documents needed to make sure a person's wishes are followed. Hart was a last-minute replacement for Steve Winfree, who was suffering from laryngitis.
Hart told the group that people need two main documents for health related issues. The first is a medical power of attorney, in which a person places their care in the hands of someone they trust in case of incapacitation. The second is an advanced directive, sometimes called a living will, that will tell doctors how to proceed.
"This is all much easier if you've had a conversation with the family about your wishes," Ruehl said.
Hart also talked about getting a POLST (Physician Orders for Life-Sustaining Treatment). He said people need to discuss it with a doctor, but this type of order gives control to the individual. Mary Arthur, administrator at Prestige Care & Rehabilitation, confirmed that such orders make it much easier for health care providers.
The group then divided into breakout sessions. Hart was joined by CPA Ivan White in a discussion about property planning. The two answered questions and helped distinguish between health care planning and financial planning. White also emphasized the importance of communicating.
"When the kids are informed, things run smoothly," he said. He related a tale of having to deal with seven attorneys in a case where the family hadn't been informed.
At the same time, Dr. Anna Madej spoke about common health issues senior citizens face. She described symptoms and signs of issues and preventative measures that can be taken.
White was back in the next session for a discussion about elder abuse and dementia. He gave the warning signs that an elder is being exploited and offered suggestions, including being on the "Do Not Call" registry and having computer passwords stored in a secure location, to preventing abuse.
White also said that senior citizens need four legal documents: a power of attorney, a medical power of attorney, an advanced directive and a will.
Opposite White's session, Ruehl offered a session on how people can leave a legacy. He said that while most people think of a legacy as money or physical objects, people can leave a different sort of legacy by the way they live.
"A lot of people find themselves asking if their life meant anything," he said. "These are questions that need to be asked earlier. Death is hard because we let these issues pile up."
The final sessions included a discussion of resources available to senior citizens, conducted by Daniel Plata of the Office of Aging and Long-Term Care. Plata provided handouts and information on who to contact for help. He suggested the first call be to his office, at 509-469-0500 or 866-891-2582. He also said people can visit the website at altcwashington.com for links to resources and information about current trends and legislation.
Members of the staff of Prestige Care & Rehabilitation in Sunnyside, including Arthur, Pat McPherson and Cruz Hall, answered questions about choosing a care facility and dealing with Medicaid in the other final session.
One person asked how to tell if it's time for a senior to go into assisted living. Arthur said when she talks with caregivers, she can often tell.
"I can see it in their eyes, the exhaustion," she said. "We offer respite care, where we take care of a person for a little while to give the caregiver a break. But sometimes the caregiver needs more than that."
Arthur said that they do interviews to determine if the time is right.
Hall also answered a number of questions about Medicare and how much of the costs of assisted living is covered by standard plans.
‑ Laura Gjovaag can be contacted at 509-837-4500, or email LGjovaag@DailySunNews.com