Friday, November 15, 2013
/lk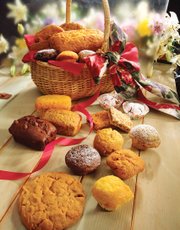 The Sunnyside branch of Yakima Federal is sponsoring a local family for the holiday season.
To provide the family of five with gifts in the spirit of the season, the bank employees have been sponsoring a series of bake sales.
Veronica Orduno of Yakima Federal said there have been two successful bake sales so far. "Two more are planned," she said.
On Wednesday, Nov. 27, a Thanksgiving-themed bake sale will take place at the local branch. Another sale is planned for Friday, Dec. 6.
Orduno said the bank has raised $250 so far. The goal is to raise another $250 before Christmas.
Branch Manager Debbie Hazzard said Dec. 6 will be the last sale so that employees can purchase items for the family.
Orduno said employees have sold baked goods, including cakes, cheesecake, fruit pizzas and chocolate covered popcorn.
She said each bake sale features something a little different.
The family being sponsored includes three children under the age of 13 and two adults.
Donations are being accepted on behalf of the family.
In addition, Yakima Federal Savings & Loan has at its local branch a toy drop box to benefit Lower Valley foster children.
"We just find it really rewarding to help others," Hazzard said of the effort to help others during the holidays.
Anyone wishing to make a donation for the family the branch has adopted for the holidays or for foster children can visit the Sunnyside branch of Yakima Federal Savings & Loan at the corner of East Edison Avenue and South Eighth Street Monday through Friday.