Friday, November 15, 2013
/lk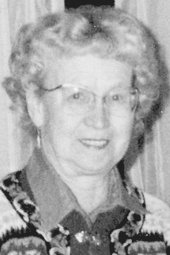 Leona M. Runyan, 93, of Sunnyside passed away on Wednesday, Nov. 6, 2013.
Leona was born Nov. 12, 1919 on the Brown Ranch in Bickleton to Niels J. and Anna L. (Jensen) Brown.
She received her education in Bickleton and at Washington State College.
On Sept. 14, 1952 she married Vaughn Runyan. After college the couple made their home in Sunnyside. While Leona was kept busy in the home, Vaughn taught school in Granger and then in Sunnyside, retiring in 1978.
The couple raised her brother Norman's children, Margaret Anna Brown (Fritz) Stout and Niels Joseph (Whitney) Brown.
Leona was a member of the Nouvella Club, bridge and pinochle groups and was a sixth degree member of the Alder Creek Grange in Bickleton.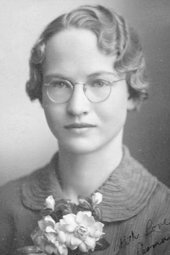 Leona enjoyed gardening, sewing and doing 1,000-piece puzzles.
Leona is survived by her loving husband, Vaughn Runyan of Sunnyside; Margaret Anna (Fritz) Stout of Cheney and Niels Joseph (Whitney) Brown of Sunnyside; brothers, Norman J. (Carlene) Brown of Anchorage, Alaska and Ellwood M. (Jan) Brown of Bickleton; sister-in-law, Phylis Brown of Santa Rosa, Calif.; and numerous cousins, nieces, nephews and close friends.
She was preceded in death by her parents; and one brother, Walter Niels Brown.
A memorial service will be held Thursday, Nov. 21, 2013, at 11 a.m. at Sunnyside Presbyterian Church.
In lieu of flowers, memorials may be made to Lower Valley Hospice or to the Bickleton Odd Fellows.
Those wishing to sign Leona's on-line memorial book may do so at www.funeralhomesmith.com.
Smith Funeral Homes Ltd. and Crematory in Sunnyside is in charge of arrangements.
More like this story