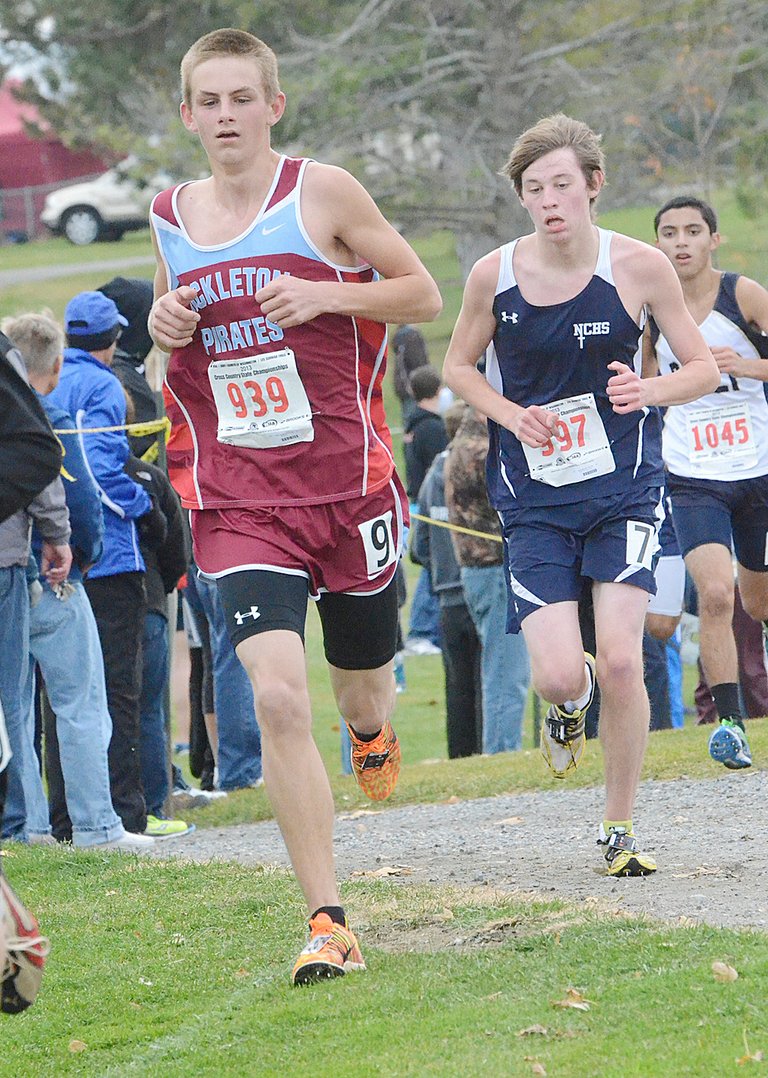 Monday, November 11, 2013
/lk
PASCO – The future looks rosy for the Bickleton High School boys cross-country team.
One of only 15 schools to qualify its entire team for last Saturday's 1B/2B State Championships, Bickleton doesn't have a single senior on its squad. And, of the six Pirates who made the trek to Pasco for the big dance last Saturday, only one is a junior. The other five are underclassmen.
Competing on the Pasco Sun Willows 5,000-meter course, Bickleton was led at State by sophomores Troy Roberts and Andrew Gannon. The two harriers finished in the top half of the 125-runner field.
Roberts sped to a clocking of 17:56.04, good for 41st-place honors. Gannon wasn't far behind him, crossing the finish line less than 20 seconds later. Gannon turned in a time of 18:14.55, the 52nd fastest clocking in the class 1B/2B race.
The speediest of the harriers Saturday proved to be a junior from Asotin High School. The lone runner to post a sub 16-minute time, Chandler Teigen won the race with a clocking of 15:52.99. Teigen's winning time was 25 seconds faster than his next closest competitor, freshman Luke Schilter of Lacey's Northwest Christian High School (16:18.31).
Teigen, the winner, and his Asotin teammates ended up placing second in the class 1B/2B team standings at State, compiling an aggregate score of 101 points. The runner-up, Schilter, and the other harriers from his school in Lacey tallied a team score of 105 points for third-place honors.
The top finishing squad, however, was Northwest Christian High School of Colbert with a meet-low 68 points. Only 58 seconds separated the top five runners from the private school in Colbert, ranging from freshman Jack Ammon's fourth-best clocking on the day of 16:35.86 to the official time of 17:33.95 posted by the fifth runner from Colbert to cross the finish line.
The Bickleton Pirates managed a 13th-place finish in the team standings, tallying a score of 337 points. Chief Leschi (371) and Lake Roosevelt (377) rounded out the field.
With Roberts and Gannon notching Bickleton's best two finishes in Saturday's race, next across the finish line for the Pirates was the team's elder statesman, junior Joey Cardenas. He cracked the top 100, posting a time of 19:36.05, good for 90th place.
Freshman Joseph Cummings was next in for Bickleton. He earned a 111th-place finish with a clocking of 20:42.11.
The Allenton brothers rounded out the Bickleton performances. Kenny, a freshman, set a time of 23:32.60; and younger sibling Cody, an eighth grader, was nipping on his heels with a clocking of 23:48.25.