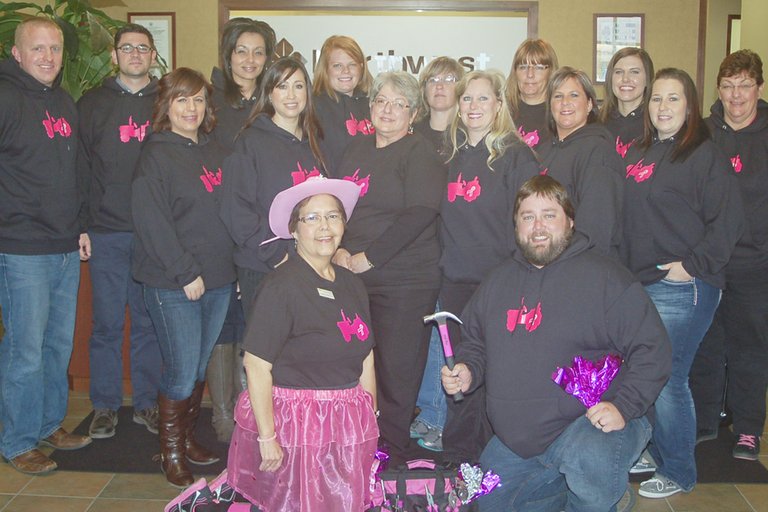 Monday, November 11, 2013
/lk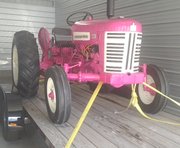 A desire to raise money for breast cancer research has excited the entire Northwest Farm Credit Services organization, according to Emma Sandoval of the Sunnyside branch of the credit service company.
"We're hoping the company's emphasis for this research campaign will carry over into our Lower Valley community," said Sandoval.
"We all know someone who has been impacted by cancer and we at Northwest Farm Credit Services want to do what we can to help find a cure," Sandoval explained.
Towards that goal, the local branch has embarked on a two-month campaign to raise research funds locally through a variety of activities.
During October, National Breast Cancer Awareness Month, the Sunnyside branch staff sold pink tractor t-shirts, pink tractor cookies and hosted a raffle for a pink trimmed tool kit, said Sandoval. The winner turned out to be Laura Huber.
Those activities are small in comparison to what the Sunnyside branch office has planned next, Sandoval said.
Come Saturday, Dec.7, the local farm credit services office will unveil what well may be the brightest entry in Sunnyside's 25th annual Lighted Farm Implement Parade.
"It has the potential to be the most talked about entry in the parade, at least we hope so," she said.
"We will be entering a hot pink vintage International tractor, all decked out in bright lights," said Sandoval.
She said the tractor is on loan from the Spokane branch of the Northwest regional company. It was last used in the annual Susan B. Komen Run for the Cure in Spokane, where it drew the attention of area television stations and earned a spot in the northwest agricultural newspaper, Capitol Press.
The tractor was donated to Northwest Farm Credit Services by a couple of Idaho farmers. Sandoval said a farmer from Ritzville donated the money to have the tractor transformed from its original red color into what is nearly a neon pink hue.
The tractor has proven to be a beacon of hope wherever it has been put on display, Sandoval said.
"We are hoping it will have that same effect in Sunnyside," she added.
Anyone wishing to order the striking black t-shirt with the pink tractor logo can call Sandoval at 839-4905 or go online at www.northwestfcs.com to purchase the t-shirt.
In the meantime, the Sunnyside farm credit staff will be working to determine how many lights will be needed to decorate the little pink tractor in order for it to truly stand out in the crowd of farm implement entries.
"We know it will be a lot and it will take a lot of time," Sandoval said. "But it will be worth it."