Tuesday, November 5, 2013
/lk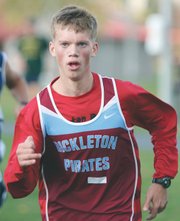 WENATCHEE - The six-member Bickleton High School boys cross-country team will head to the 1B/2B State meet this coming Saturday after notching a third-place finish in the team standings at last Saturday's District competition in Wenatchee.
Troy Roberts, a sophomore, ran a time of 17.16.42 to finish fifth in last Saturday's three-mile District race. It was the fastest time posted by a Bickleton runner.
Fellow BHS Pirate Andy Gannon garnered a 'Top 10' finish at District, as well. Also a sophomore, Gannon placed eighth with a clocking of 17:26.95.
Four of the six BHS harriers set personal best times at District.
Bickleton Coach Chase Rost said his team has improved consistently throughout the season, and the District meet was no exception.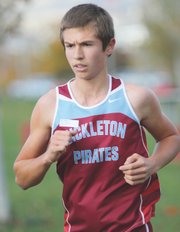 "Going into the meet (our team) knew we were positioned to advance as long as we didn't get too excited or try to compete outside of our abilities," Rost said.
The four other Bickleton harriers competing in the 43-runner field at District included junior Joey Cardenas, 16th place in 18:48.64; freshman Joseph Cummings, 29th place in 20:33.98; freshman Kenny Allenton, 34th place in 21:31.28; and eighth grader Cody Allenton, 42nd place in 24:58.63.
Team-wise, Liberty Bell captured top honors at the District 5/6 meet last Saturday by tallying a meet-low 23 points. Not surprising…considering the first three harriers to cross the finish line hailed from Liberty Bell. The three runners completed the race within nine-tenths of a second of one another, with the clockings ranging from Ben Klemmeck's winning time of 16:56.04 to runner-up Willy Duguay's time of 16:56.60 to third-place finisher Liam Daily's time of 16:56.95.
Yakama Tribal senior Timothy Celestine was the fourth runner to cross the finish line, about 13 seconds from a top three placing. The Bickleton sophomore Roberts was approximately six and a half seconds behind Celestine to round out the top five.
Rost said he was pleased to see that the Yakama Tribal runner, Celestine, was able to compete at District. The teen received a last-minute waiver from the WIAA, allowing him to compete at District. Rost said Celestine and his top runner, Roberts, ended up go-
ing neck-
and-neck on the Wenatchee course.
Lake Roos-evelt, second in the team standings at District with 68 points, and Bickleton with 75 points will along with Liberty Bell be sending their entire teams to the State meet this coming Saturday at Pasco's Sun Willows Golf Course.
Rost said he'll be coaching his Bickleton team to perform even better at the State meet on Nov. 9.
"As exciting as it is to qualify for State, we want to show up running our very best," he said.