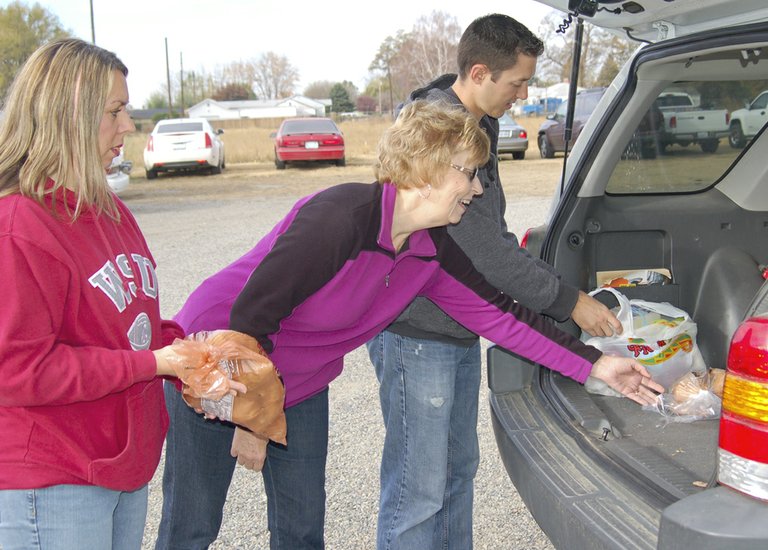 Monday, November 4, 2013
/lk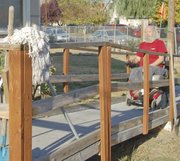 Many days of most weeks volunteers are out doing work for other people with little notice or praise, but their efforts pay endless dividends to the clients who receive those services.
Lower Valley Volunteer Chore Services coordinates a large number of volunteers around the area from Grandview to Granger and beyond. The volunteers include church groups and individuals, retirees and youths.
Coordinator Natalie Curfman arranges schedules and recruits volunteers. Her work allows people around the valley to put their volunteer time to the best possible use.
Roy Frazer credits Lower Valley Volunteer Chore Services with his ability to stay independent. He rents a home in Sunnyside, and has received help from a number of volunteers.
"They built the wheelchair ramp," Frazer said. "And they painted my house, too. Before that it wasn't much to look at and was falling apart."
Frazer's home was one of the first painted as part of the Loving Sunnyside initiative, and he is still grateful for the work that people put into the paint job.
For the past few summers Leroy Werkhoven has also come to Frazer's home to do yard work. Werkhoven's red truck and lawnmower are no strangers to Frazer's neighborhood.
"I've been mowing here about six years," said Werkhoven.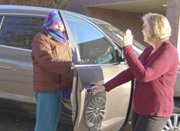 Kelly Adamson of Grandview said she enjoys the work. Adamson has a regular job of collecting food from the Grandview food bank and delivering it to clients who have limited mobility. She shares the job with other volunteers.
"We're scheduled so no one is overburdened," said Adamson. "It's only 20 minutes or so once a week, but it's an important 20 minutes."
Another volunteer is Libby Werkhoven, Leroy's wife, who has given countless hours of service. She currently offers driving services, and has helped several clients make it to appointments or get shopping completed.
A major effort recently was helping a woman move to Oak Harbor to help care for her father.
"She was giving up her home," explained Werkhoven. "I helped with some of the packing and then Leroy drove the U-Haul truck out there and I followed in the truck."
Although the trip was a major effort, the steady work week after week is what makes the volunteers so valuable.
"Our work can help people stay in their homes," said Werkhoven. "It's more comfortable and less expensive than having to move into a nursing home."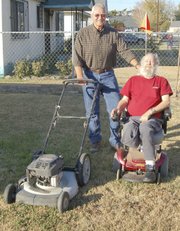 Werkhoven does other work besides driving, although she no longer provides housework services. She spends summers doing yard work with her husband.
"Leroy cut down from mowing four yards to two yards, but halfway through the summer started doing another yard," she said. "So he cut down by only one."
Werkhoven said Volunteer Chore Services is good at providing supplies for yard work, including bags and weed-killer.
"They just need people to do the work," she said.
Curfman raves about the volunteers who provide services. Dave Charvet, George Saenz, Robert Charvet and Paul Groeneweg are known for their wheelchair ramps and handrails. Grandview Nazarene Church and the Lower Valley Latter-Day Saints also have supplied hours of yard work.
Curfman said donations have also helped keep the services available, with Prosser Rotary and Walmart both making generous gifts.
‑ Laura Gjovaag can be contacted at 509-837-4500, or email LGjovaag@DailySunNews.com