Friday, November 1, 2013
/lk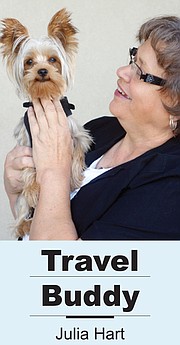 Driving around town with Buddy attempting to hog the front seat is a bit of a challenge. It's not enough he thinks he wants to drive, he is continually hopping up and down every few minutes as I speed up and slow down to keep pace with the erratic traffic flow.
I think it is his way of complaining about the other motorists' inability to stick to the speed limit.
As of late, it has been a huge challenge to keep Buddy calm as we travel along Yakima Valley Highway from North First Street to East Factory Road. I think he is becoming a tiny, canine version of a backseat driver.
Buddy has taken to barking at cars, as though he is trying to encourage the other motorists to drive the doggone speed limit.
"It's 35 mph, people."
Sometimes I think he is yelping at them complaining that "the stray dogs are running faster than you are driving." I didn't say that - Buddy did, I think. I tend to agree.
The Yakima Valley High-way traffic in Sunnyside is dreadful. I think if Buddy were to get out of the car and run alongside some of our weekday "Sunday drivers," he could beat me home. He may be little, but he is awful fast.
By the same token, I have noticed Buddy yelping at the drivers in the school zones, who are clearly going too fast. "The school zone speed limit is 20 mph during school hours, you silly humans."
So far, Buddy has not offered to chase the school buses. He always seems to be throwing a friendly nod to the bus drivers. I must say he does not have much patience for those drivers who think the yellow flashing lights on the back of the bus are a mere suggestion rather than a reason to stop.
"You're supposed to stop for the bus," he seems to be barking.
The last few mornings Buddy has gone completely ballistic when riding around town with me. He is very upset that motorists are ignoring the children trying to cross the street.
If I were to let him out of the car, I am afraid he would be biting quite a few car tires, especially those drivers failing to give an inch for the miniature pedestrians.
When he acts that way, it makes me glad I didn't get a Great Dane, because I don't think I could hold him back when he sees people committing traffic infractions.