Thursday, May 23, 2013
/lk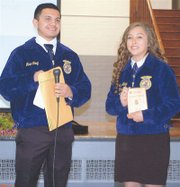 MABTON - The Mabton High School FFA chapter held its annual awards banquet this past Tuesday night, bestowing several honors on its membership and recognizing the community's support.
The banquet included induction of the chapter's new officers for 2013-14: President Jesenia Meza, V.P Ty Leyendekker, Secretary Risa Navarro, Treasurer Jose Cruz, Reporter Michael Jaramillo, Sentinel Jessica Vasquez, ASB Representative Alexis Jaramillo, Jr. High Representative David Jimenez, Student Committee Chair AJ Sanchez, Chapter Committee Chair Joel Chavez and Community Committee Chair Edson Rivera.
Some of the awards presented Tuesday night included:
- Star Chapter Degree to Jesenia Meza as most active high school member beyond their first-year of membership.
- Star Citizenship to Daniel Bedolla for the member exhibiting outstanding service qualities.
- DeKalb Award to Vanessa Sanchez as the chapter's outstanding senior member.
- Star Greenhand Degree to Jessica Vasquez as the chapter's most active first-year high school member.
- Diversified Horticulture Placement to Vasquez for proficiency in using best management practices.
- Floriculture Placement to Sanchez for proficiency in using best management practices.
- Swine Production Entrepreneurship to Meza for raising a high quality market hog for the Toppenish Jr. Livestock Show.
- Beef Production Entrepreneurship to Joshuah Rodriguez for raising two market steers for the Central Washington Jr. Livestock Show.
- Star Discovery Degree to David Jimenez as the most active seventh or eighth grade FFA member.
- Marketing Plan team recognition to Vanessa Sanchez, Risa Navarro and Adis Vizcaino for placing first at Districts and 11th at State.
- National Chapter team recognition to Rodriguez, Vanessa Sanchez, Rivera, Alex Jaramillo, Chavez, Leyendekker, Crystal Cruz, Meza, Michael Jaramillo and AJ Sanchez for earning fifth-place honors out of 152 chapters in Washington state and earning national recognition.
The Mabton chapter also presented appreciation awards to the community.
"Without your continued support of us, the Mabton FFA chapter would not be as successful," Vasquez said prior to appreciation award presentations to: Dave Hanson for work with the marketing team, Karen Mendoza for volunteering time for the state FFA convention, Nohemi Meza for helping at the state convention and serving as judge, Bryan Arellano for supervising leadership camp, Sid Leyendekker for volunteering to haul apples to the Yakima fair, Jesus and Shandee Sustaita for allowing FFA members to keep animals at their house, Nurse Cindy and Andy for helping with the fruit display at the fair, Carol Ashby for serving on the CTE advisory committee, Brock Ledgerwood for helping at the Toppenish Jr. Livestock Show and supporting the agriculture program, Northwest Horticulture for serving on the CTE advisory committee and plant donations, Elsa Sanchez for attending the national convention, the Daily Sun News for media coverage.
Also recognized were Loretta Stewart for serving as a guest judge for numerous agriculture program events and supporting the FFA plant sale, Sue Sartain for supporting FFA activities and serving as a member of the FFA Officer Interview Committee, Jose Elizondo for supporting FFA activities and events, Mike Surmeyer for supporting CTE leadership activities and events, Minerva Morales for serving as a guest judge for the FFA officer interviews and supporting CTE leadership activities, Daniece and Bill Roettger for continual support of the chapter, Jose and Alicia Meza for support of the FFA chapter as parents and active volunteers, Nick Sustaita for volunteering to take members to camp and continued support of the agricultural program, Vickie Navarro for helping out with FFA activities, Teresa Vargas for being supportive of FFA, William Schmick for allowing the FARM team to come into his classroom every Thursday, Rick Kernan for supporting the CTE department and Veronica Prieto for supporting the program and for mailing and making copies.
The Mabton FFA chapter also presented an honorary degree to Olga Parulkar for going "above and beyond your job duties" in taking care of ASB matters.
There were also lighthearted moments Tuesday night, such as singing Happy Birthday to chapter advisor Randi Krieg and humorous presentations to seniors Vanessa Sanchez and Sonia Alvarez to prepare them for the "real world.&quot