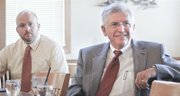 In Sunnyside we have our issues, but we aren't slowing down," Sunnyside Port District Executive Director Jay Hester told members of the Sunnyside Chamber of Commerce at their monthly meeting Thursday afternoon.
"Growth is coming," he said "There is more interest in moving finished product instead of bulk product out of Sunnyside."
That growth is the business of the port, which operates an industrial wastewater treatment plant and owns industry-ready land around the area.
A project the port is currently working on is an anaerobic digester at its treatment plant. The cost is about $6 million and the port has already managed to get grants and loans to reduce the amount it might need to pass on to industries using the facility.
"It will give us greater capacity, which means we can bring in more industries, which will spread the cost around more," said Hester. "It's a win for everyone."
Hester expects port officials to be busy for the next few years accommodating new industries that come to Sunnyside. He said the port currently has 90 acres of land ready for heavy industry to move in, most of it in blocks of about 20 acres.
"The improvements in the schools and the building of the YV-Tech branch campus are helping to sell Sunnyside," Hester said. "People see that it's a good place to raise children."
The YV-Tech branch campus is another area where the port is making accomplishments. The new campus adds to the development at Golob Landing. The port recently moved its own offices out to the Horizon building nearby, and Hester said two new tenants, Integrity Driving School and Fastenal, will bring more people out to the area.
"The town is slowly moving out where we thought it would 20 years ago," he said.
Hester said the port has worked to help businesses find the best location, including moving EnTrust Community Services to its new downtown location. The efforts have paid off.
"The port is doing better financially," Hester said. "Revenues from rent are up."