Friday, March 29, 2013
/lk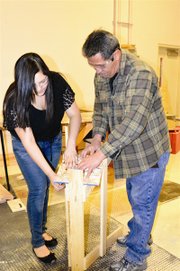 Do you think pigs are downright cute? Are you creative enough to make a pig's snout twitch?
You might be the right individual to win a prize for decorating your own swine.
The Yakima Valley Fair & Rodeo this year is celebrating "Pig-nic in the Country Park," and is seeking talented individuals for its Decorate the Pig Contest.
Last year community members from all over Yakima Valley showed their talents for decorating cows. This year, pigs of all walks of life will be on display thanks to the creative genius of all who step out in a show of support for the annual event to decorate a pig.
Sawhorses are currently being built by Sunnyside High School woodshop students and are being distributed to those interested in competing in the contest.
The features of the pig are left to the imagination in this contest and anyone can enter.
There is a senior division for adults and a junior division for anyone 17-years-old and younger.
First through third place prizes will be awarded. The first-place winners will receive $150 in cash. Runners-up will be awarded $100 and third-place winners will receive $75.
Each pig must advertise the dates and location of the Yakima Valley Fair & Rodeo.
Decorations must be secured to the frame and the Yakima Valley Fair & Rodeo Foundation will not be responsible for items falling off the entry.
The decorated pigs will be used to remind community members of the dates of the fair. They will be displayed at area businesses until the fair opens.
At that time, the pigs will be rounded up and placed on display at the Yakima Valley Fair & Rodeo grounds.
All entries must be picked up at Country Park in Grandview before 11 a.m. on Sunday, Aug. 11.
The fair will be held Aug. 7-10.
For more information or to have a sawhorse delivered, give Jake Van Pelt a holler at 840-3230.
Businesses interested in displaying these works of art are urged to also give Van Pelt a shout out.