Wednesday, March 20, 2013
/lk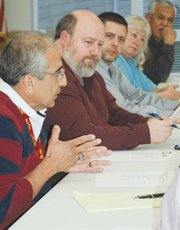 GRANDVIEW - Citizens here want more staffing at the Grandview Community Center. The question now is whether they're willing to pay for it.
That was the crux facing Grandview city leaders last night (Tuesday) during an open town hall meeting at the community center.
The Grandview City Council is mulling a hike in the city's private utility tax, upping it from the current 6 percent to 8 percent.
The increase would need voter approval and council is considering the idea as a way to restore staffing at the community center. To make ends meet in 2013, the city axed the deputy recreation director post and eliminated a police officer position.
If the city goes forward with the proposal - and if voters approve it - the increase would mean an additional 2 percent tax on natural gas, telephone, cable and electricity bills.
Gretchen Chronis was the deputy recreation director, before she was reassigned this year to fill a vacancy in city hall. Chronis said she was thankful for the chance to stay onboard in Grandview, and expressed hope she might someday return to her post at the community center.
Her comments came after the public weighed in with a desire to have her return to her old job.
"It's a nice facility and it should be staffed more," said Walt Bratton, noting Parks and Recreation Director Mike Carpenter can't run all the programs and the center on his own.
That's all well and good, but the city needs to find a way to pay for that post and to maintain police services, for which the public also expressed a high level of support.
"We have a balanced budget and living within our means, but we're looking to the future," said Mayor Norm Childress.
Grandview City Treasurer Matt Cordray provided the public a chart showing how the city's general fund- which typically covers day-to-day operations - will have a nearly $400,000 shortfall by the end of 2014 if it does nothing.
Even worse, the $1 million or so Grandview has in general fund reserves will be gone within three years if nothing is done.
By contrast, Cordray's chart shows that with a 2 percent utility tax hike in place the city's general fund will have a shortfall of only $52,000 by the end of 2014 and its reserves will still be solvent for the next five years and beyond.
Bratton's wife, Pat, contended that the city's financial woes could be eased considerably if city employees were willing to pay a portion of their medical insurance coverage.
"If you have to pay like we do, the city would be a whole lot better off," she said.
According to Cordray's chart, employee insurance costs for the city are expected to jump by nearly $400,000 over the next five years.
City Administrator Cus Arteaga responded, noting city employees have agreed to a wage freeze since 2009 and a new insurance plan that costs the city less money.
In addition, he said asking employees to pay for a portion of their insurance coverage is something that would have to be negotiated in future union contracts.
Arteaga said the city also has future fiscal concerns, like paying for a full-time city administrator and full-time public works supervisor. Currently, he does both jobs on a half-time basis each.
In addition, Grandview will face retirement cash-outs for Arteaga and Police Chief Dave Charvet in the near future.
In all of this, though, there's still the question whether Grandview's citizens are willing to pay another 2 percent in private utility taxes to maintain government services.
The group of 30 or so people in attendance last night didn't give a firm thumbs up or down to the idea, with some wanting to take a wait-and-see approach.
City officials are hoping a one-page survey of residents will give them a better idea if the public would back the tax increase or not.
After the meeting, Arteaga told the Daily Sun News the city would like to have more residents participate in the survey.
He said the forms can picked up and dropped off at Grandview City Hall, 207 W. Second St. Information is also available by calling 882-9200.
Arteaga says the city is in no rush to put a tax increase on the ballot and wants more citizen input first.
"We have a balanced budget. We're not in panic mode," he said. "We're just looking at some options before we get into dire straits."