Friday, March 8, 2013
/lk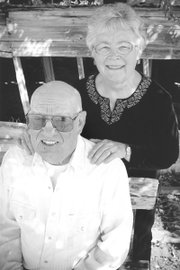 OUTLOOK - Virgil and Susie Myers will be moving to Idaho after having spent a lifetime in Outlook.
Mr. Myers spent his entire life in the Outlook area. He was a cattle feeder, while Mrs. Myers taught kindergarten.
She moved to Outlook when she married the love of her life, and together the couple raised three children.
Sons Kevin and Kurt Myers live in Idaho.
In June 2011, Mr. and Mrs. Myers celebrated 50 years of marriage.
Now they embark on a new chapter in life, but they will be missed in the Lower Yakima Valley.
Barb Miller is a lifelong friend of the couple. She said, "They've made a tremendous difference in the lives of others through leadership and involvement in the community."
Mr. Myers, she said, is a pioneer of Outlook who graduated from Washington State University.
He was the Central Washington Junior Livestock Show director, has been an avid bowler and golfer, and supported children in the community alongside his wife.
The pair, said Miller, have served as superintendents and judges at the Yakima Valley Junior Fair (now the Yakima Valley Fair & Rodeo). They were leaders of the Grow 'Em & Show 'Em 4-H club and supported activities at Sunnyside's United Methodist Church.
"Susie has touched the lives of many children," said Miller, noting Mrs. Myers went beyond serving as a kindergarten teacher.
She was raised in Leavenworth, and graduated from Washington State University before marrying Mr. Myers.
When Mrs. Myers moved to Outlook she became an active member of the community and has been on the Yakima County 4-H Leadership Council.
She has volunteered at Sunnyside United Methodist Pre-School and the Outlook Elementary School library. She has been a member of PEO, Delta Kappa Gamma and a quilting group.
Miller said most of Mrs. Myers' focus has been on the youth in the community.
Cathy Mears was Mrs. Myers' principal at Outlook Elementary School.
She said, "Susie was a fine teacher...and of course, being a kindergarten teacher, the kids remember her."
Mears said Myers was always creative, helping students learn via activities like "...cooking stone soup, which was inspired by Stone Soup, the book."
Because Myers is so well remembered by past students, Miller and Mears say the former teacher has been invited to and attended many weddings over the years.
Mears said Myers has also organized an annual Christmas bazaar during which she sold many baked goods and crafts designed by her own hands.
"It was pretty popular," said Mears.
She said the couple has made a lasting impression on many in the community.
Mears said Mr. Myers has always been supportive of youth organizations and the couple was a large part of the 4-H and fair programs.
"Susie is a very talented woman...she believes busy hands are happy hands," said Mears.
She and Miller said Mrs. Myers endeared others to her with a vocal and musical talent, as well. She has been a member of the bell choir, played piano and often provided vocal performances.
"They've been a real support to the community and it's a terrible loss," Mears said of the couple's impending move.
"But, they want to be near family and we can understand that."
Miller said, "They've been great friends to Dale and myself...they weren't just focused on the lives of their own children, but children throughout the community."
She and her husband attend church with the Myers and said the church family will miss the couple.
Mary Schlenker of Sunnyside United Methodist Pre-School said she will also miss Mrs. Myers, who began volunteering at the school after retiring from the Sunnyside School District.
"She helps with baking projects, especially making tarts...at the end of the year, she helps with a bubble activity that allows the kids to be creative and have fun," said Schlenker.
She said Myers also serves on the pre-school board and is responsible for evaluating Schlenker's performance as a teacher.
"She helps the pre-school run smoothly," said Schlenker, noting the children appreciate Myers' attention and are provided an opportunity to understand there are people outside their circle who care about them.
"Susie is also a grandma figure to some of the students who don't have regular exposure to their own grandparents," Schlenker said, noting Mrs. Myers is a caring individual who has shared her love and generosity with many.
All three women agree that the Myers' will be missed, but they are wished much happiness as they move forward in life.