Wednesday, June 5, 2013
/lk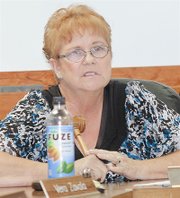 MABTON - A tense and at times argumentative debate over who should be the interim Mabton mayor began immediately after Mayor Pro-Tem Oping Hutson called Tuesday's special Mabton Council meeting to order.
The debate began as soon as Hutson nominated Vera Zavala to the interim position. The debate was mainly between Councilmen Zavala and Mario Martinez, the front runners for the position. Both had announced their desire to seek the interim position immediately after former mayor Angel Reyna announced his decision give up the position.
When the dust settled, longtime city councilwoman Vera Zavala was elected by a 3-2 vote of the council. Voting no were Mario Martinez, who is the sole candidate for the mayor's spot on the fall ballot, and Councilman Mark Gourneau.
The debate centered on which of the two councilmen had more experience with state and federal agencies and who was better able to move the projects forward.
Martinez, who was elected to the council in 2007, said he has made every effort to make contact with county, state and federal agencies during his tenure as a councilman. He said he had been in on all the meetings as the community sought to advance its plans for wastewater treatment plant upgrades.
Zavala countered by saying she has more experience, having served on the council since 1994.
The debate became personal when local resident Celia Martinez stood to ask if the city's current list of priorities were going to be moved forward. "Will the website continue to be a priority? Will the current council goals continue to be priorities," Martinez asked.
Zavala indicated she thought Martinez's question was a set-up, as she is the wife of Councilman Martinez.
"I am still a resident of the community and I have a right to know," Mrs. Martinez said.
Zavala declined to comment on the questions posed by Mrs. Martinez.
Only Councilman Gourneau spoke in favor of Councilman Martinez's appointment to the mayor spot.
"I think Martinez should be mayor as he is the one running for mayor and if voted in, it would be good for him to get used to it (the job)," he said.
"I don't think this should be a personal issue," Gourneau added.
Councilwoman Sophia Sotelo said she felt that while Martinez will make a good mayor when elected, Zavala's years on the council will give her the needed experience to do the job for the next seven months.
Hutson chimed in saying she had nominated Zavala because she has been here a long time and "...we can learn from her experience." she added.
With Zavala's appointment as mayor a new vacancy has been created on the council. A request for candidates to fill council position 5 will be advertised immediately, said Ret Stewart, city clerk-treasurer.
As mayor, Zavala will have no vote in city matters, except in the case of a tie vote.
"I want to be honest and straight forward (as mayor)," said Zavala, who added she felt she could do a good job in the position.