Tuesday, January 29, 2013
/lk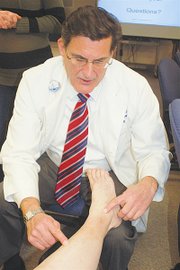 There was a time when the most common solution for varicose veins was painful surgery that stripped out the veins.
Today there are options aplenty, including treatments with compounds, laser and radio frequencies.
These are recent developments that not only address varicose veins, but have other applications, such as treating cancer.
That's according to Dr. David Shoemaker during a presentation last week at Sunnyside Community Hospital.
He says the diseased veins aren't only unsightly, but pose long-term health concerns such as dead skin on the legs and ankles as well as open sores.
"The goal is to get rid of the diseased veins and force the blood to go through healthy veins," Shoemaker said.
Treatments range from the laser or radio frequency procedures that close the diseased veins so that blood will flow through healthy veins.
Less serious spider veins, he adds, can be treated with a compound that acts like a glue to close off the diseased veins.
Shoemaker says this type of procedure is not only becoming more common place for varicose veins, but is a cutting edge technology for other health issues.
Hysterectomies, for example, can now be done by closing off blood to the uterus instead of surgery to remove it. He says the result is that patients are able to be released the next morning and back to work soon after. That's in contrast to surgery that can require days and weeks to recover.
A similar strategy is also now in use for dealing with cancerous tumors.
He said doctors can now inject a poison into the tumor to kill it, then follow that immediately with an injection of a sandy-like substance that closes off blood flow to the tumor.
Thompson says it's kind of like farming. When water supply is cut off, plants die. When blood flow is eliminated to the tumor, he adds, it too dies.
Shoemaker practices at the Specialty Center Surgical Group offices behind Sunnyside Community Hospital.