Monday, January 14, 2013
/lk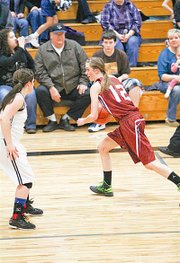 The Bickleton Lady Pirate basketball squad had an exciting weekend with twin victories against two tough opponents.
Last Friday night the team brought Klickitat and Bickleton fans to the edge of their seats with a Lady Pirate one-point victory in overtime. The Lady Pirates earned an early lead against the visiting Klickitat team, 15-8, in the first quarter. The second quarter, Klickitat managed to make a comeback, tying the game 23-23.
Bickleton managed to nearly double Klickitat's third quarter points for a 34-29 lead.
In the last few seconds of the final quarter, a Klickitat player sank a 3-pointer, to tie the game at 43-43.
In overtime play on the Bickleton court, the Lady Pirates came away with a one-point win.
Contributing to that win was Bickleton's Jamie Venema with 19 points on the night, 15 rebounds and eight blocks. Lindsay Brown added a nine-point effort for the winners.
Lady Pirates Hali O'Banion and Haley Goodnight notched eight points each, contributing to the team's victory. Other Bickleton girls contributing to the night's win were Sydnie O'Banion (3 points) and Lacey Cannon (2 points).
The weekend got even brighter when the team traveled to Trout Lake, where the Lady Pirates earned a strong win over Trout Lake/Glenwood, 58-46.
Bickleton trailed by one point in the first quarter, 15-14, but that was the last time all night the team was in the red. Bickelton fought back to take a 30-24 lead into the half. In the third quarter the Lady Pirates improved its lead, 40-36. The Lady Pirates notched 18 fourth-quarter points for the eventual victory, 58-46.
With the lead most of the night, Bickleton Coach Emily Barnhart says the Lady Pirates nailed critical shots at the free throw line in the final quarter.
"I felt like the entire game we were in control, the girls played very poised and under control," Barnhart added. "This was a great win for the Lady Pirates."
The Bickleton Lady Pirates, 2-3 in league play, are headed to Granger tomorrow night (Tuesday) for a non-league game.