Friday, February 22, 2013
/lk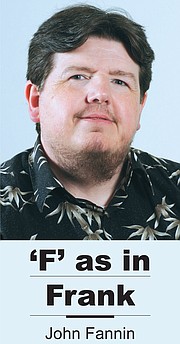 Yep. You guessed it. It's that time of year again...the awards season.
The Grandview Chamber of Commerce held its awards banquet this week, and Sunnyside's is set to take place in just a few weeks.
Then, of course, there's that little matter of the Oscars this coming Sunday night.
So, without further ado, here are the third annual Effie awards (for F as in Frank), my take on the Lower Valley's best of 2012:
Volunteer of the year: Over the past few years more than 50 homes in the city of Sunnyside - including six more just last October - have received a new lease on life thanks to efforts by the Loving Sunnyside Initiative under the leadership of Leroy and Libby Werkhoven.
He's quick to say others are responsible for the clean-up and painting efforts, but it is Werkhoven who spearheads the efforts and organizes volunteers and resources to help out those struggling to maintain their homes.
If you've seen the before-and-after photos you know there is a night-and-day difference for the families who call these houses home and their neighborhoods as well.
Government employee of the year: To say it's been a year of turmoil in Sunnyside is to put it mildly.
The city's staff - such as City Clerk Delilah Saenz - has done yeoman work in operating under three different city managers - and soon a fourth - in a span of just 12 months.
A constant through it all, whether it's dealing with improvements at the airport or downtown revitalization, is Public Works Superintendent Shane Fisher.
He manages to keep these and many other major projects and grant applications moving forward calmly, with aplomb amidst turmoil to the left and right at city hall. And for that he is my government employee for 2012.
A couple of the things that stood out to me about Fisher last year may seem like minor items compared to Sunnyside's multi-million dollar budget, but they show a willingness to listen, to get involved and be transparent.
One was sitting down at multiple meetings with the Sunnyside Museum Board to go over maintenance issues at the old museum.
The board didn't get everything it would have liked in 2012, but was tickled to have city representation at their meetings and for Fisher and then-interim City Manager Frank Sweet to make sure the museum got a much-needed roof repair.
The other was last year during a public works committee meeting when Fisher informed the group one of Sunnyside's previous public works supervisors had ordered a $200,000 street sweeper for the city that didn't actually work for Sunnyside's streets and sidewalks.
Rather than try to hide the big oops in his department, Fisher was not only transparent about the situation but got on the ball and actually found a buyer for the like-new equipment so Sunnyside's financial hit could be minimized.
Resourcefulness like that gives me hope for Sunnyside.
Business of the year: The Effie for the 2012 Business of the Year was a tough decision, but my choice is J.M. Eagle. In an economic climate when businesses look to close down or retrench, the Sunnyside company instead re-tooled last year with a new pipe production line that has created a new demand from customers.
I appreciate JM Eagle for keeping its doors open and staying in Sunnyside.
When JM Eagle CEO Walter Wang was here last October for a tour of Sunnyside's new and improved plant he said it was a "blessing and privilege to invest in Sunnyside again." The city is blessed to have that kind of forward-thinking company calling Sunnyside home.
Pioneer of the year: Another tough choice, but for 2012 this award belatedly goes to Dr. Jack Hale.
Sadly, we lost him early this year, but he was a pioneer in the valley for his work in the field of optometry.
The great thing about Hale is he not only had a pioneering spirit, but vision, too. For example, Sen. Jim Honeyford's start in Olympia happened more than 20 years ago after encouragement from Hale.
Hale's ability to believe in himself and in others was a blessing for Sunnyside.
That's all for this year's Effie awards. As with the previous two Effie columns, it was encouraging to look back and review the contributions of so many in the community.