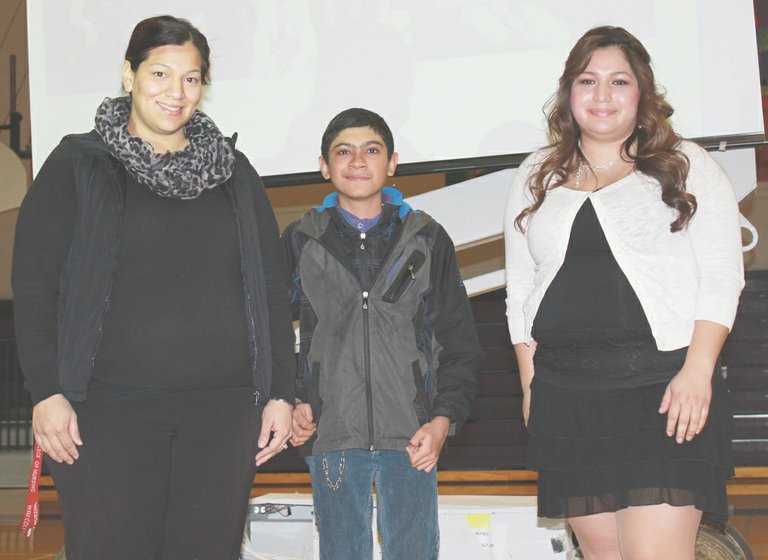 Friday, December 27, 2013
/lk
MABTON - Everyone has a story on their journey to success.
Last week, Mabton students had the opportunity to share their story and gain inspiration from two special speakers at a career fair.
The women chosen to be this year's kick-off speakers for Mabton High School's career fair, Elizabeth Garcia and Irma Mejia, were selected because they are hard working, determined and are sisters who locally make a difference.
The sisters said growing up in a family of 12, working in the agricultural fields was not easy and they knew they wanted more out of life.
At just 18 years old, Mejia moved to Los Angeles following high school. She wanted to attend nursing school. She told the Mabton students she worked multiple jobs to put herself through school.
Mejia said working hard and putting herself through school helped her succeed.
After earning her LPN credentials, Mejia again returned to college…as a full-time wife, mom and employee at Sunnyside Community Hospital.
"The sacrifices of many long shifts and homework nights away from her family is paying off," according to another of Mejia's sisters, Lucia Tovar, who is a counselor at the high school in Mabton.
Mejia is currently a nurse practitioner, working at Mid Valley Clinic in Sunnyside.
Garcia was just entering her junior year in high school when she became pregnant. She chose to raise her child, but didn't let that stop her from getting an education and pursuing her dreams.
She received her AA from Wenatchee Valley College before starting work as a paraprofessional and home visitor in the Sunnyside School District.
Garcia knew she wanted more for her children so she continued her studies and received a Bachelor's degree at Heritage University. Just this past year, she earned a Master's degree from Gonzaga University. She is currently math teacher at Sunnyside High School.
Garcia said she strongly believes every student can achieve at high levels given the opportunity. She works hard at everything she does and doesn't take "I can't" for an answer.
"What I admire most about these women is that they have worked hard to achieve their dreams," said Tovar.
She said the sisters knew that students at Mabton High School also had unique stories to tell. As a result, they challenged students to write an essay about the struggles they have overcome to continue their education and what their plans are after high school.
From among 17 entries a winner was selected, and presented a new computer tablet.
With the winner's permission, the struggles this young man has overcome just to continue studying were shared at the career fair.
The career fair attendees learned Jesus Policarpo recently immigrated to the U.S., fleeing his native country due to persecution. There were many challenges he had to overcome just to get here.
He spoke of crossing the desert and being separated from his family, getting caught by immigration officials before finally settling in to the community of Mabton.
Policarpo was determined to learn English. He purchased Rosetta Stone software and taught himself English. He is flourishing as a student in Mabton, according to Tovar.
"We were proud he won the tablet," said Tovar.
"When the sisters summarized the powerful essay this student wrote, there was not a dry eye in the audience."
The speakers also gave out Wal-Mart and Dutch Bros. gift cards to the students who submitted an essay.
Tovar said, "Every student has a story. The important thing is just to continue on your journey to success and not let the challenges stop you from achieving your best."