Friday, December 20, 2013
/lk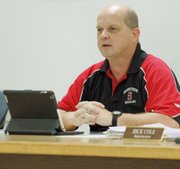 Sunnyside High School is now a 4A school, according to the Washington Interscholastic Activities Association, and will be officially classified as such starting in January.
The WIAA classifies schools according to enrollment, with the largest schools in the state classified as 4A. Sunnyside was previously in the 3A classification, which meant its enrollment was between 1,086 and 1,303 students.
The change in classification will result in a change from district five to district six in WIAA alignments next school year, likely reducing travel time and out of school time for Grizzly athletes. Sunnyside High School will remain a part of the Big Nine League.
Sunnyside High School has been a member of the Big Nine League since 2006, and has been playing district six teams the past two years.
At last night's Sunnyside School Board meeting, athletic director Bill Daley answered questions and asked for the board's approval to move forward with officially designating the school as a district six school.
Daley said he expects no objections to the move, which will allow Sunnyside to participate in district six playoffs.
"This is just a formality," said Daley. "It starts with the school board."
Daley said the change to 4A was expected. Local officials had predicted that enrollment would be large enough to move the school to the new category and the actual enrollment is within the predicted range.
"We are right where we expected to be," said Daley.
The board voted unanimously to approve the move from district five to district six.
However, Director Sandra Linde requested a report on the school's programs, facilities and staffing compared to other 4A schools in the league. The board approved the request for information gathering, which will be presented as soon as it can be compiled.