Friday, December 20, 2013
/lk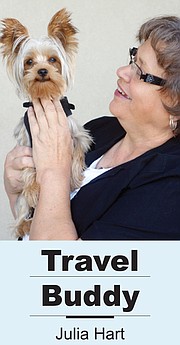 I don't think Buddy knows a doggone thing about how to enjoy holiday food. He nibbles at his kibbles one piece at a time, while others in our house, like me, gobble two or three cookies at a time.
He never seems tempted by all the readily available human treats, although he does enjoy an almond occasionally.
I try to tell Buddy that with so many treats set out at this time of year I feel obligated to taste a few at every event I attend during the holiday season. I don't think my little dog believes me when I tell him that people expect me, at the very least, to sample something from each of the trays.
And unlike Buddy, I have a hard time sticking to an exercise routine to keep my calorie count within limits.
Thank goodness I have Buddy to help me with my half-hearted exercise routines.
Buddy just shakes his head at my lack of self control and races away for five minutes of exercise before returning to delicately chew another bite of dog food.
But I know he is doing his part to help me get a little extra exercise to match my growing consumption of sugary and extra fatty foods.
Buddy's numerous trips to explore his little outdoor kingdom helps him to maintain his tiny Yorkshire Terrier body. He doesn't seem to make any extra effort to maintain his sleek little six- pound frame. I guess his fitness is the result of all that cat chasing and basset hound wrestling he incorporates into his days.
But lately as I have gotten slower about responding to his yard duty calls, his demands have gotten more frequent.
At first I just assumed he was being especially diligent regarding his watchdog duties. After all, it is exhausting work checking the front yard for troublemaking cats and squirrels.
Most evenings it seems we are required to get up out of my easy chair for his outside runs nine or 10 times over the course of the evening.
It also seems like he is making faster requests to come back inside after being out for only two or three minutes.
Dog experts say our canine pets always know when something's up. So, maybe he does know something I don't, especially about healthy activities.
One thing is for sure, if I am going to continue to be a frequent visitor to the cookie buffet, I had better take Buddy up on his offer to get me moving. I suppose the next thing he is going to want is for me to take him on twice daily walks around the block.
I'll think about it, but first I have to get used to getting out of my comfy recliner to let Buddy outside, again.