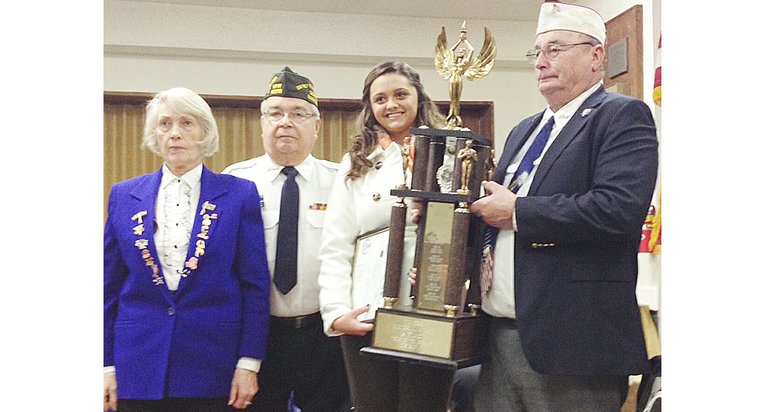 Wednesday, December 18, 2013
/lk
Prosser High School sophomore Joslyn Felicijan is the winner of the VFW District 17 Voice of Democracy speech writing contest.
Jean Morris, District 17 contest chairperson, said Felicijan will have her name engraved on the VFW District 17 traveling trophy, as well as having the honor of having the trophy on display at her high school until the next Voice of Democracy speech writer is named.
Felicijan was selected from among contestants representing high school students from Yakima to the Tri-Cities.
Felicijan was named the winner during the VFW District 17 awards luncheon held last Saturday in Sunnyside at the Sunnyview VFW Post with District 17 Commander Bill Ingram presiding.
In addition to being given the VFW trophy for a year, Felicijan received $300 in cash and has the opportunity to compete with other Washington State District Voice of Democracy winners at the VFW Department convention next May, Ingram said.
Sunnyside High School senior Stefani Anciso earned third place honors in the District 17 contest. She received $100.
Here is Felicijan's winning speech:
Why I'm Optimistic About Our Nation's Future
An optimistic person will typically take a hopeful view in situations and expect a successful outcome. For example, Winton Churchill said, "Americans can always be counted on to do the right thing …after they have exhausted all other possibilities." Being an American I am extremely optimistic and have confidence in the United States' future because of the support of the American people.
The main reason I am optimistic is that the American people will always support their country. In World War II, Americans supported the war efforts by collecting scrap metals, growing victory gardens and gladly accepting the use of rations. Women went off to work, helping to build whatever was needed to help the military. This support for the American government and military was said to be the "Birth of American Patriotism." But during the Vietnam conflict, the tables were turned and not many Americans supported involvement in Korea or Vietnam. Groups of anti-government naturalists broke out, losing the support for our military and government. Fast forward a few decades to present day and our American patriotism has grown back in full swing. Americans supported the Iraq War by donating care packages, sending gifts and cards to our troops overseas. Also, now when the soldiers return home they are greeted by groups like Operation Thank You, total strangers that are united for one reason, which is to welcome and thank all the soldiers returning home for their courageous efforts. This makes me optimistic because this shows that the patriotism of American will fluctuate from decade to decade, from war to war, but it will never fade and will always be present.
The second reason I am optimistic is that over the past decade America has learned and will continue to learn from its mistakes and the mistakes of others. A major mistake that America was able to amend was slavery. After a long and bloody Civil War, everyone no matter their race or ethnicity in America was finally free. Also, during the Great Depression, to make sure that America will never go through an economic failure that substantial and devastating, President Franklin Delano Roosevelt enforced the Federal Reserve Act, which insured the money in the bank that belongs to a person.
Following the use of chemical weapons during World War I, a worldwide treaty was signed banning the use of chemical weapons called the Geneva Code. Over the history of America there have been mistakes with severe consequences. But, our country is still standing firm, strong and powerful. We are all destined to make mistakes, but I am very optimistic that Americans will be able to change, adapt and recover from them.
My final reason I am optimistic is that Americans will always be respectful and aware of how our country became and has been transformed to how it is today. In schools across America, it is required for every student to take a history class on United States history and government. This way students will be informed about the hardships and victories our country has gone through to get to where we are today. Also, in schools we honor and pay our respects to our veterans by putting on a Veterans Day assembly. On Veterans Day and Memorial Day, there is neither work nor school to remind people about the sacrifices and courageousness of the solders that fought and defended our country.
Lastly, across America there are monuments and museums for people to see and experience what our country has gone through and to commemorate their accomplishments. Like in Washington D.C. the Vietnam Memorial, the World War II Memorial and in every local community cemetery there is a tomb for all the unknown soldiers. As time goes on, there will be more memorials and statues dedicated to those who changed and altered our country. We will never forget our past and in time there will be more history to learn and to return more pride in our country.
As Americans we have to maintain optimism about Americans' future, especially for the next generation. Just like how our founding forefathers did for us, when they were optimistic about the United States future and had to separate from Great Britain.
"Optimism can be faith that leads to achievement. Nothing can be done without hope and confidence." – Helen Keller. These profound words have so much power in shaping our great nation. Without taking a leap of faith and being optimistic of our nation's future, the U.S. wouldn't have prospered.