Monday, December 16, 2013
/lk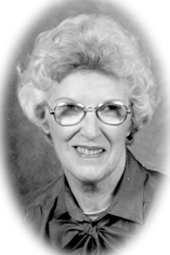 Esther Clara Bassett, 93, a 10-year resident of Colville, passed away peacefully on Thursday, Dec. 12, 2013. She was born in New Salem, N.D., to Maxmillian and Amelia (Mueller) Klingenstein.
Esther met Gene Bassett, and they were married in Walla Walla on Aug. 31, 1940. She was a loving, caring person that never spoke an unkind word about anyone. Esther had a huge heart and a great love for family. She was a very selfless, giving person and would spend six to eight weeks with each of her children's families whenever a new grandchild was born just to lend an extra loving hand.
In her younger years, Esther loved to play the piano and passed that love on to her two daughters. She was also very active in her church for many years.
She was said to be a quiet, shy, good listener--a very tender, compassionate person. Esther had a passion for baking and was best known for her butterhorns, which her family could never get enough of. She also loved spending time playing dominos with Gene and the rest of the family. Esther was a master at the game, with Gene keeping track of all the games they ever played. It seems that she would always have the upper hand and could beat the best of them.
In her later years, Esther loved to be around her family taking short day trips around the area. She also enjoyed canning and Sunday dinner get-togethers with the family. There will always be a special place in the family's heart for Esther. She will be missed by all who knew and loved her.
Esther is survived by Tom (Kathy) Bassett of Colville, Claudia Ohlde of Sunnyside and Gloria (Gry) Delp of Dayton; eight grandchildren: Desiree, Derek, Darren, Kristen, Gavin, Brandan (Callie) Bassett, Morgan (Tyler) House, and Dane (Jacque) Bassett: and three great-grandchildren, Jenny Delp, Quade House and Vivi Bassett.
Esther was preceded in death by her parents, Maximillian and Amelia; and five older brothers, George, Fritz, Frank, John and Ben.
Services for Mrs. Esther Bassett will be held Thursday, Dec. 19, 2013, at 10 a.m. at Redeemer Lutheran Church in Dayton, with graveside services to follow at the Dayton Cemetery.
Memorial contributions may be made to Colville's St. Paul Lutheran Church.
Please visit the on-line memorial and sign the guestbook at www.danekasfuneralchapel.com.
Danekas Funeral Chapel and Crematory has been entrusted with the arrangements.
More like this story