Monday, December 16, 2013
/lk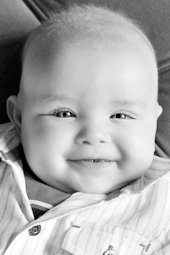 Our little sunshine, Cannon Rigby Copeland, passed away peacefully at home in his mother's arms on Thursday, Dec. 13, 2013, the son of Dr. Kent Copeland and Natalie Copeland, both of Sunnyside.
Cannon was just three years old.  He was the best little brother his older sister, Ella (7 years old) and older brother, Ethan (11 years old) could have ever wished for.  Beyond his immediate family, Cannon was loved dearly by his grandparents, John and Brenda Robbins of Logan, Utah, and George and Laura Copeland of Green Cove Springs, Fla.
Cannon was also loved by many adoring aunts, uncles and cousins, church family and our community friends. There were many households that said Cannon's name in their family prayers on a daily basis and we know that because of the faith of those around us, his life was enriched and blessed. 
Being diagnosed with a terminal illness called Menkes disease, Cannon never developed typical skills such as holding up his head, sitting up or crawling.  Without ever speaking a word, Cannon taught us the true love of Christ. The love that he radiated was infectious and anyone that spent time with him knew there was something special about him. 
He touched many lives and continues to bless us with his legacy as a true angel. Cannon always loved listening to beautiful music and watching twinkling lights.  It is no coincidence that now we will be able to celebrate the reverent season of the birth of our Savior with the tender reflection of Cannon's short, but very precious life. 
Funeral services will be held Tuesday, Dec. 17, 2013, at 11 a.m. at the Church of Jesus Christ of Latter-day Saints, at 1101 E. Lincoln Ave. in Sunnyside, and on Tuesday, Dec. 17, 2013. Graveside memorial services will be held on Saturday, Dec. 21, 2013, at the American Fork Cemetery in American Fork, Utah on Saturday Dec. 21, 2013
Condolences can be sent to www.valleyhillsfh.com
Valley Hills Funeral Home in Sunnyside is in care of
arrangements.