Friday, December 13, 2013
/lk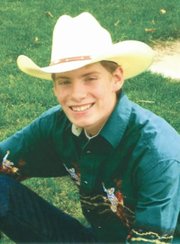 MABTON - Cale Moon, a young, gifted singer/songwriter and recording artist, will be the next featured musician at the Mabton Gospel Music Jamboree to be held Sunday, Dec. 15.
The monthly jamboree will be held at 2 p.m. at the Grace Brethren Church in Mabton.
Moon has shared his music ministry and love of the Lord several times at the jamboree. He is currently touring all over the USA with his family. In addition to performing his own songs, he has become well known for his version of "The Long Black Train".
The Gospel music jamboree takes place the third Sunday of the month and anyone who loves good old fashioned Gospel music is invited to attend.
Any interested musicians are invited to participate at the open microphone event.