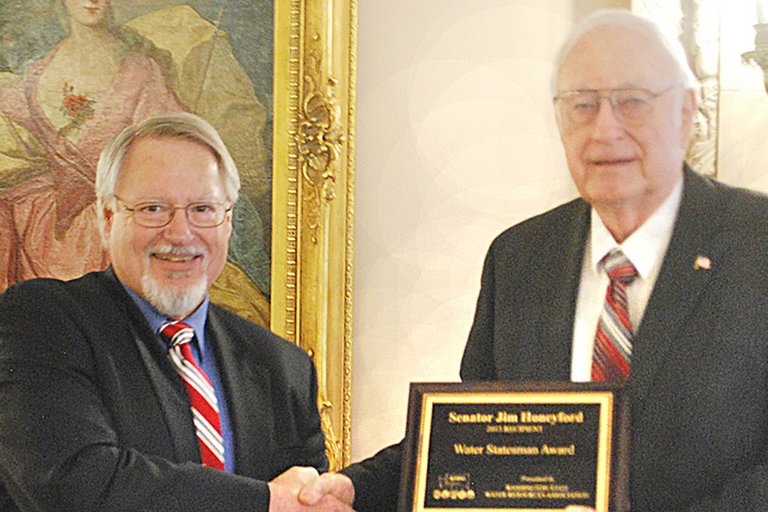 Thursday, December 12, 2013
/lk
For the second time during his tenure as a state senator, Sen. Jim Honeyford, R-Sunnyside, has received recognition as the Washington State Water Re-sources Association's Water Statesman of the Year.
Honeyford was awarded the honor following a prescheduled presentation to the association at its annual conference held in Spokane last Friday.
The association, comprised of irrigation-district representatives from across Washington, confers the honor only when members believe it is deserved.
"I was completely caught off guard by this award," Honeyford said.
"I was expecting to deliver a speech to the association updating them on water issues in Central Washington, and was totally surprised when they announced I would be receiving their highest honor for the second time," Honeyford said. Previously, he earned the award in 2003.
The Water Statesman Award recipient is chosen by members of the association based on the actions of those who have made a significant contribution to water issues.
Previous recipients include Sen. Irv Newhouse, 1995; Tom Carpenter, 1997; Rep. Gary Chandler, 1998; Sen. Bob Morton, 2006; Mark A. Limbaugh, 2007; Kris Polly, 2008; J. William McDonald, 2009; and   U.S. Rep. Doc Hastings in 2011.
"The association gave me this honor as a result of my work and support of the Yakima Basin Integrated Water Resource Management Plan, which when completed, will provide approximately 70 percent of the usual amount of water during a drought," Honeyford remarked.
"I'm also particularly humbled since this is the first time that an individual has received the award twice."
Recently, Honeyford was also presented with the Wash-ington State Farm Bureau's Legislator of the Year Award for an unprecedented third time. He also received the award in 2003 and 2007.
Honeyford, who serves as the ranking Republican on the Senate Agriculture, Water and Rural Economic Development Committee, added that water issues will continue to be a top priority for him during the 2014 legislative session and beyond.