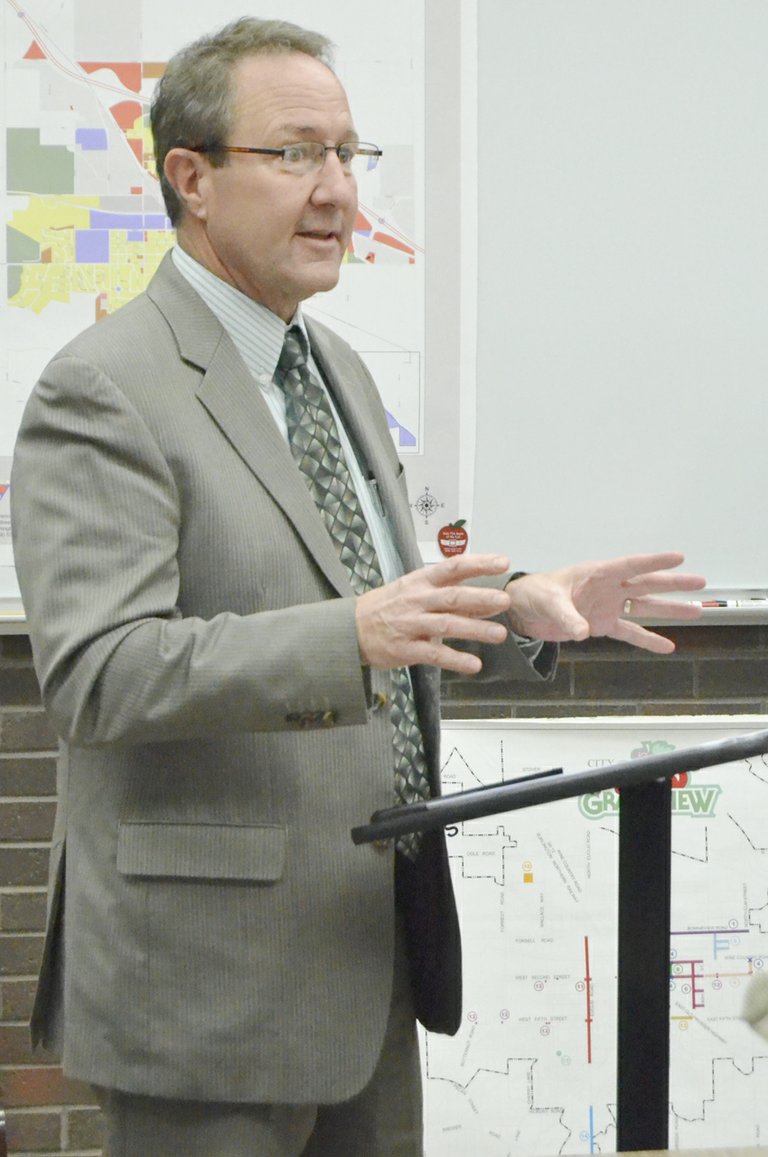 Wednesday, December 11, 2013
/lk
GRANDVIEW – To comply with requirements of the National Pollutant Discharge Elimination System Waste Discharge Permit issued to the city of Grandview for its wastewater treatment facility, Engineer Ted Pooler recently completed an AKART (all known, available and reasonable methods of treatment) Engineering Report.
Pooler last night (Tuesday) presented that report to the Grandview City Council, stating there are several monitoring wells on the wastewater treatment plant property.
Those monitors have indicated there are high levels of chloride and total dissolvable solids (salt) concentrations in the groundwater under the plant property.
Not all levels are acceptable standards, thus Pooler said groundwater quality improvements are needed.
He noted that both the chlorides are considered secondary contamination as a result of treating wastewater.
The city of Grandview once used its spray fields, but no longer does. That has contributed to higher salt concentrations in the spray fields. Pooler said he believes the salt is no longer being diluted by watering the spray fields.
He also recommends discontinued use of several unlined lagoons, stating that will improve the groundwater quality.
"It may take a number of years to clean up the groundwater," said Pooler.
He said the city is no longer putting chlorides and salts on the ground. Therefore, gradual improvements will be recorded over time.
Pooler said the Washington State Department of Ecology recognizes past practices were permitted. He said the agency will give the city latitude for addressing groundwater quality issues for that reason.
In the engineering report, he is recommending further improvements to the Grandview wastewater treatment facility. However, he told the council it should wait until 2020 to make those improvements once the current loans are paid.
In the report, Pooler identified improvements that have the potential for improving groundwater quality, including adding aerators to one of the newer lagoons. He said another lagoon could be decommissioned. The cost of adding aerators to the newer lagoon is estimated at $300,000.
Pooler also recommends adding a new lined equalizing lagoon, expanding the city's sludge facility and adding a treatment train to the mechanical wastewater treatment process. The estimated cost of those improvements is $14 million.
"We think the best plan of attack is to proceed with improvements in 2020," Pooler said, noting two loans will have been paid, freeing up approximately $780,000 in funds annually to pay for the improvements.
Pooler said he will be submitting the AKART Engineering Report to the Department of Ecology by the end of the year.
Mayor Norm Childress noted that the high concentration levels of chlorides and salts found in the groundwater at the wastewater treatment plant are not a danger to public health.