Tuesday, December 10, 2013
/lk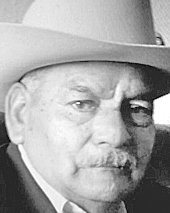 Maximo S. Hernandez, 78, of Richland passed away on Wednesday, Dec. 4, 2013.
He was born July 28, 1935 in Jourdanton, Texas to Francisca Salazar and Maximo B. Hernandez Sr.
He migrated with his family from San Antonio, Texas and traveled to different states including Ohio, Wisconsin, California and Washington. They arrived in Sunnyside in 1969.
He married Celestina Hernandez on Dec. 26, 1952.
He built homes, commercial buildings and machinery with no prior education, as well as a church in Outlook. He was truly a master in everything he did. His was a self employed contractor/businessman. He was retired.
He moved to Tri-Cities in 2004 and spent some time living in Oregon. 
He enjoyed fishing with his sons and grandsons. He loved family gatherings with great food, dancing and looking his best at all times with his nice black shiny shoes and sharp hat.
He was very outgoing, social, loved people and cared deeply about his beloved wife, Celestina, who just recently passed to be with our Lord. He cared about his 10 children, Olga (Lupe) Rodriguez, Tony Hernandez,  Andres (Chantelle) Hernandez,  Glenda (Abe) Garfias, Ruben "Chuco" (Dee) Hernandez, Alicia (Antonio) Sanchez, Pablo Hernandez, Vicky (Vero) Hernandez, Tina (Jeff) Acosta, Eziquel (Lupe) Hernandez;  31 grandkids; 41 great-grandkids; and eight great-great- grandkids; and friends.
He had such a great sense of humor and always brought a smile to everyone's face including any stranger that passed his way. He leaves so many wonderful memories for all of us. He will be missed very much and will always be in our hearts as our Hero.
A memorial service will be held Sunday, Dec. 15, 2013, at 1 p.m. at Columbia Memorial Chapel and Gardens in Pasco, 224 S. 24th Ave., Pasco.
Columbia Memorial Chapel and Gardens is in charge of arrangements.
More like this story