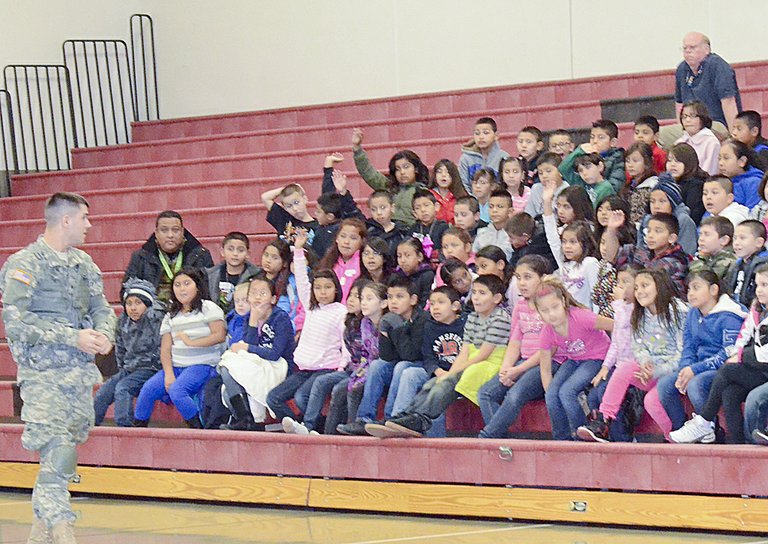 Monday, December 9, 2013
/lk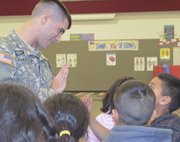 Third grade students at Sunnyside's Chief Kamiakin Elementary School were treated to a special presentation as part of multiplication boot camp last Thursday.
Army Specialist Dylan Johnston visited the school, talking to the students about the importance of learning math and setting goals to achieve success.
"People use multiplication on a daily basis for nearly everything," said Johnston.
He said multiplication and math can be used to calculate the number of meals a person eats each week, how much time is spent completing daily routines and finishing everyday tasks.
"Math is important in the world…without it we wouldn't have science," Johnston said.
He asked the students about different jobs like constructing buildings and being a soldier, stating math is an important element to nearly every job. Being a soldier, he said, requires math, as well.
"I'm always trying to get better…that's my goal," said Johnston. To do that, he said he must be willing to learn. "I am always learning."
Johnston told the students goals are achieved by being willing to learn and work hard.
"You always want to do your best," he said.
When asked how he travels, Johnston told the students he travels in a large jet that can carry up to three times the number of third grade students that were present.
"Calculating that number requires multiplication," he said, asking the students to multiply three times 150.
"Math is fun…I learned to like it…I learned all the fun things we can do with math," said Johnston.
He said he learned math to reach his goal of joining the Army. He told the students that was his goal since before he was in third grade.
"Now, I am living my dream," said Johnston, stating he worked hard and learned math to get where he is today.