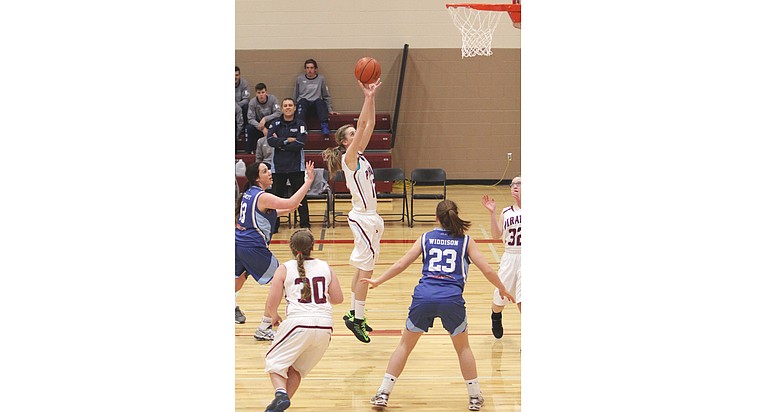 Monday, December 9, 2013
/lk
BICKLETON – Two games into the 2013-14 season and it's become clear the Bickleton Lady Pirates are going to have to fine-tune their shooting techniques.
Unable to get a lot of its shots to fall, the Bickleton girls basketball team dropped a 53-30 decision to a touring club from Australia this past Saturday.
As in their season opener two days prior, the Lady Pirates had a difficult time in getting the ball to drop through the hoop.
"Another slow start and a very low shooting percentage seem to be plaguing the girls," Coach Emily Barnhart said of Saturday's non-league game.
The Australian Titans, who got double-digit scoring performances from Erin Watson, Megan Kenneth and Cody Manning, jumped out to a 17-6 first-quarter lead. The Titans pushed their advantage to 32-12 by the time halftime rolled around.
Bickleton, which got a team-high 12 points from eighth grader Jayce Alexander, stayed with the Australians the second half, pumping in 18 points to the Titans' 21.
From an individual standpoint, sophomore Heather Goodnight had the top rebounding effort for the Lady Pirates. She collected 11 loose balls off the boards. Alexander, besides being the top scorer for Bickleton, came up with a team-high three steals.
The Lady Pirates varsity (0-2) continues the non-league portion of its schedule this coming Tuesday at home against the Zillah JV.
Australians – Erin Watson 14, Alana Fensom 8, Sally Houlihan 7, Megan Kenneth 11, Cody Manning 10, Jade Tiller 3, Jacquelin Widdison 0, Natalie Short 0
Bickleton – Jayce Alexander 12, Lindsay Brown 5, Kira Harvey 5, Lacy Cannon 8