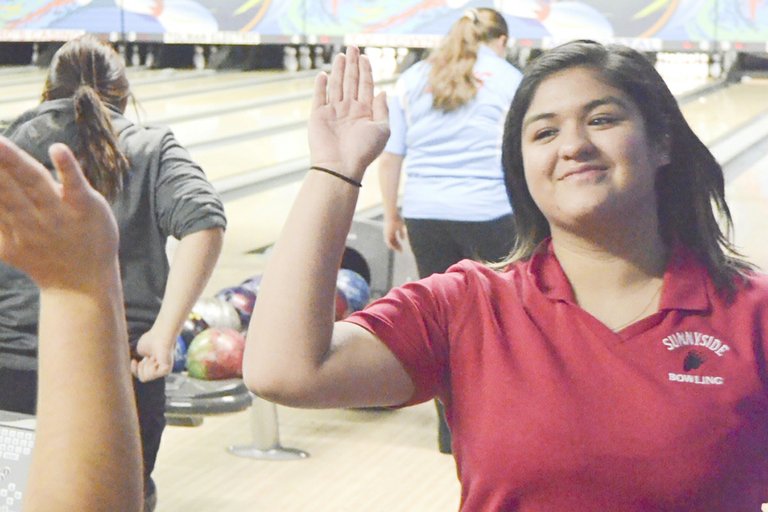 Friday, December 6, 2013
/lk
Sunnyside senior Brianna Esqueda far exceeded any realistic expectations by tossing a 347 two-game series yesterday afternoon against the visiting West Valley Rams.
A career best for Esqueda in a prep bowling match, the glitzy performance wasn't enough, however, to carry the Lady Grizzly bowling team past West Valley.
The Rams, behind the 341 and 323 two-game series of Blaire Crutchley and Summer Himrod, posted a 4-0 sweep against Sunnyside.
The visitors squeaked out a 742-722 victory over the Lady Grizzlies in game-one. Crutchley and Himrod had the top individual efforts for West Valley in that contest on performances of 173 and 156, respectively. Sunnyside's Johanna Chumley and Esqueda actually topped Crutchley and Himrod's scores with individual efforts of 181 and 159. The Rams, though, made up the difference in the opener with their three other bowlers, as they outscored Sunnyside's three low scorers by a margin of 413 to 382.
The Rams - with Kyla Ball rolling a team-high 182, and Crutchley and Himrod adding efforts of 168 and 167 – were the clear winners in game-two, prevailing 792-648. Sunnyside got a contest-best 188 from Esqueda, but with Chumley's 129 being the second highest score on the Lady Grizzly squad, game-two belonged to West Valley.
Thursday's match was secured by the Rams in the first of the two Baker games. West Valley dominated by a 189-147 score. The Rams made it a clean sweep by winning the second Baker game, 168-111.
Sunnyside (2-5) returns to action next Thursday, Dec. 12, against Selah at Yakima's Minda Lanes.