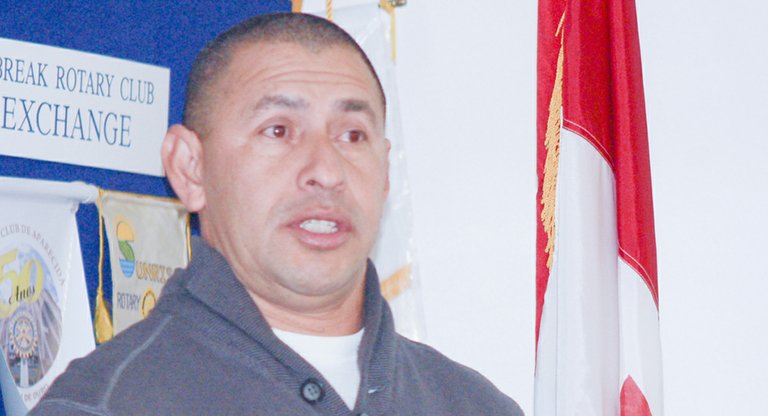 Wednesday, December 4, 2013
/lk
Sunnyview Park, located midway between Sunnyside and Grandview on Yakima Valley Highway, was home to more than 1,000 young soccer players every weekend during the past summer, according to Trish Combs of the Sunnyside Sports and Arts Association.
Tony Hidalgo, co-founder of the non-profit youth organization, said the young people would not have gotten to play soccer, if not for the SASA summer league.
"They would have been on the streets, probably getting into trouble," Hidalgo told Sunnyside Daybreak Ro-tarians at the club's morning meeting today (Wednesday).
Saying SASA has faced many challenges during the first year of its existence, Hidalgo and fellow co-founder Combs haven't given up on the programs. If anything, they claim to remain passionate about doing more for the youth.
"Still more needs to be done," said Combs.
"We need more space and indoor facilities are needed in order to continue serving these young athletes," she added.
Combs and Hidalgo, who also operate a driving school in downtown Sunnyside, said they are not just teaching children, age 4 to 16, how to play soccer.
"We are educating them about safety and to have respect for the facilities they are using," Combs said.
"We know these youths will someday be working for you," Hidalgo told the Rotarians.
In addition to organizing and operating the summer youth soccer league, SASA held sports safety clinics for the players and coaches during the past year. The group, which claims to have more than 100 parent volunteers and coaches, also supports artistic endeavors. Last Christmas, SASA hosted a letters with Santa event at the Sunnyside Community Center, and a music event in April in downtown Sunnyside, Combs said.
"So what do we want now?" asked Combs. "We want a multi-purpose building where we can hold our events, like tournaments.
"We need your help," Combs told the Rotarians.