Monday, December 2, 2013
/lk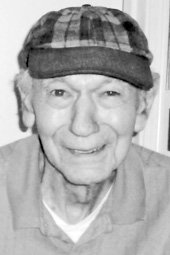 William R. Touchette, 91, of Prosser passed away peacefully on Sunday, Nov. 24, 2013, at Sheffield Manor in Prosser.
Bill was born Aug. 1, 1922 in Raymond, to Louis and Marie Touchette.
After graduating from O'Dea High School in 1940, Bill married the love of his life, Sylvia Jean Heyting in 1948 and settled in Grandview. They shared a wonderful and devoted life together for 54 years. The early years of Bill's career were spent as a high climber for Weyerhauser Timber Company for 15 years, and later he joined the Sheet Metal Workers Local 242 in 1954. He worked for JA Jones Construction at Hanford until his retirement in 1985.
Mom and dad moved to Toledo, where they enjoyed canning the produce from their garden that they shared with family and friends, morning coffee together, and long walks. They enjoyed spending time with their children and grandchildren, horseshoe pitching, campfires, movies and popcorn.
Dad loved to read and recite poetry and always had time to play a game of cribbage or two. He spent many hours playing solitaire and putting together jigsaw puzzles.
Dad was a kind and generous man who never hesitated to help family and friends in their times of need. His warm smile touched the lives of everyone he came in contact with. We were blessed to bring dad home for the remainder of his life to be with family.
He was a lifelong member of the Catholic faith.
With so many wonderful family memories, dad will always hold a special place in our hearts. Bill is survived by Penny Derowitsch, Bill (Darcy) Touchette, Bob (Debbie) Touchette, Bert Touchette, Denise (Gerry) Smith; 15 grandchildren; 30 great- grandchildren; and one great-great-grandchild.
Bill was preceded in death by his loving parents; his wife; brothers, Aaron and Albert; sister, Mary; and daughters, Patty and Yvonne; grandson, Aaron; and great- grandson, Peter.
A memorial mass will be held Friday, Dec. 6, 2013, at 11 a.m. at Blessed Sacrament Catholic Church in Grandview.
In lieu of flowers, the family has requested donations be made to the Alzheimer's Association or a charity of your choice.
Condolences can be sent to www.valleyhillsfh.com
Valley Hills Funeral Home in Sunnyside is in care of all arrangements.
More like this story