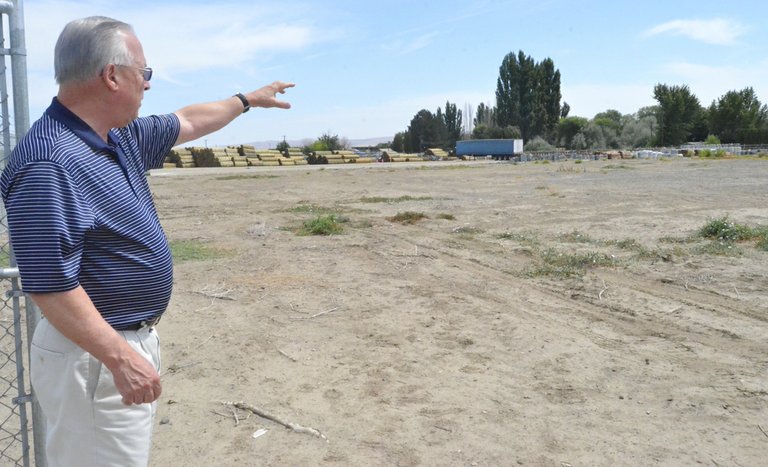 Friday, August 23, 2013
/lk
GRANDVIEW – A new 37,600 sq. ft. building will soon be constructed next to the Bleyhl Country Store in Grandview.
That building will be home to a new agronomy center, said Bleyhl Farm Service General Manager Greg Robertson.
He said plans have been in place for several years for the development of a larger location in Grandview.
Those plans were included in the company's 2013 financial plan last fall.
Just last week the permits for constructing the agronomy center were issued.
"The agronomy center (in Grandview) will serve as the division headquarters," said Robertson, stating the company has outgrown its current center on Birch Street in Grandview.
There are two other branches of the division. Sunnyside provides farmers with dry crop nutrients and Zillah provides both dry and liquid nutrients and crop protection products.
The Grandview headquarters for the agronomy division will be providing all crop protection and nutrient products.
A shop for crop sprayers and equipment for crop protection will be a part of the new facility.
There will also be office space for the division's management team, said Robertson.
Robertson said the larger location will make it possible for farmers to find a larger variety of the products they need.
"Everything is changing to liquid," he said, stating the facility will have storage tanks for the products sold by the agronomy division.
"We will also have a 110-foot scale for weighing trucks," said Robertson.
There are 15 employees at the location on Birch Street who will move to the new location once construction is complete. Robertson said two additional employees may be hired at the facility's shop.
"The old location is pretty maxed out…it will probably be used for storage until we decide to do something else."
‑ Jennie McGhan can be contacted at 509-837-4500, or email
JMcGhan@DailySunNews.com