Thursday, August 22, 2013
/lk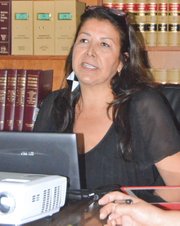 Trish Combs, co-director of the Sunnyside Arts and Sports Association (SASA), yesterday (Wednesday) presented an informational slide show to the Sunnyside Parks and Recreation Board.
It was the first meeting for the city's new parks and recreation coordinator, Megan Razey. She said she was impressed with the efforts of SASA.
Combs said SASA was formed because the city of Sunnyside didn't have funding for a parks and recreation director. The city had also severed ties with Sunnyside's Promise due to funding constraints. That group had been offering recreational opportunities to local youngsters at the Sunnyside Community Center.
Combs and co-director Tony Hidalgo "…wanted to make a difference…we knew children needed something to do and wanted to help."
Combs said SASA met with then Interim City Manager Frank Sweet, who was supportive of her group's efforts.
She said the volunteer group established a soccer program that has become highly successful.
"We have parent meetings which give children the opportunity to meet other parents," said Combs, stating it is important for youngsters to be in contact with caring adults.
"Not all parents like to get involved," she said.
Combs said SASA also hosts weekly meetings with the coaches involved in the soccer program. Combs said there are concussion, first aid and health trainings for the coaches. The health trainings enable the coaches to earn a health card. Combs said they are taught how to properly maintain a healthy environment, including storing foods for games.
SASA hasn't only been focused on its soccer program, according to Combs.
She said the group has organized a reading program, mentorship program, a food drive and an art expo. Although the weather was poor on the day of the art expo, several talented vocalists and dancers were on stage at Sunnyside's Centennial Square that day.
Other SASA-sponsored events that Combs believes youngsters in the community have enjoyed include a golf camp at Black Rock Creek Golf Course, a letters to Santa program and a meet Santa event.
The golf camp provided youngsters an opportunity to learn from a golf pro, said Combs. "The kids had so much fun…seeing a child hit the ball for the first time was exciting."
Combs continued with her presentation, stating, "One of the biggest things to us is taking pride in our facilities."
She said volunteers have made an effort to clean the Sunnyside Community Center and maintain soccer fields they use.
"Our goal is to keep our activities affordable," said Combs.
Razey, following the presentation, said, "I didn't know what SASA was about…you are doing a really good job and it's impressive."
The parks and recreation board members, too, each stated they were pleased with the presentation.
‑ Jennie McGhan can be contacted at 509-837-4500, or email JMcGhan@DailySunNews.com