Friday, August 16, 2013
/lk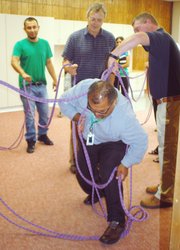 Sunnyside United's efforts to obtain grants that help in the battle against criminal gangs and youth drug/alcohol use weren't enough to preserve a sex trafficking grant.
Sunnyside Deputy Police Chief Phil Schenck is a member of the community coalition for Sunnyside United, and during the group's meeting yesterday announced a grant to battle sex trafficking in the area went away because of the demise of Sunnyside's Promise.
Schenck said with Sunnyside's Promise essentially defunct, the grant funding agency pulled the money and re-assigned it elsewhere. He said he tried to keep the funds here to help the work of Sunnyside United but was told it was too late as the funds were already re-committed.
Schenck said Suzi Carpino, who was hired as a specialist through the grant to assist in the efforts against minor sex trafficking, will likely volunteer in that post for a while longer. In 2012 Carpino was lauded with the Hero Award during a Spirit of Sunnyside banquet for her work with troubled youth through Sunnyside's Promise.
Thursday's meeting also saw the community coalition group take steps forward in a joint effort later this year to have Sunnyside police work with police explorers from outside of the community to conduct a liquor compliance push. The idea is to have the minors attempt to buy liquor from local merchants and determine whether or not they are sold alcohol.
If the youths are able to purchase or have an adult buy for them, then Schenck says follow-up contact and charges will be forthcoming.
Work is also underway to draft Sunnyside United's bylaws, including steps to make sure a wide range of sectors in the community are represented.
Steve Carpenter of Yakima Chief is another member of the coalition, and he told his counterparts that in the next month or so they should have available for review bylaws and an organizational re-structuring draft in the aftermath of Sunnyside Connect's move to become an adhoc group.
Also discussed yesterday was an effort to provide brochures, posters and even a website to get Sunnyside United's message out. That effort includes a gang intervention and prevention meeting with parents on Thursday, Aug. 22, at 6:30 p.m. at Sunnyside United Methodist Church.
Sunnyside United's community coalition will next meet on Thursday, Sept. 19, from 10 to 11:30 a.m. in the Sunnyside School District board room.