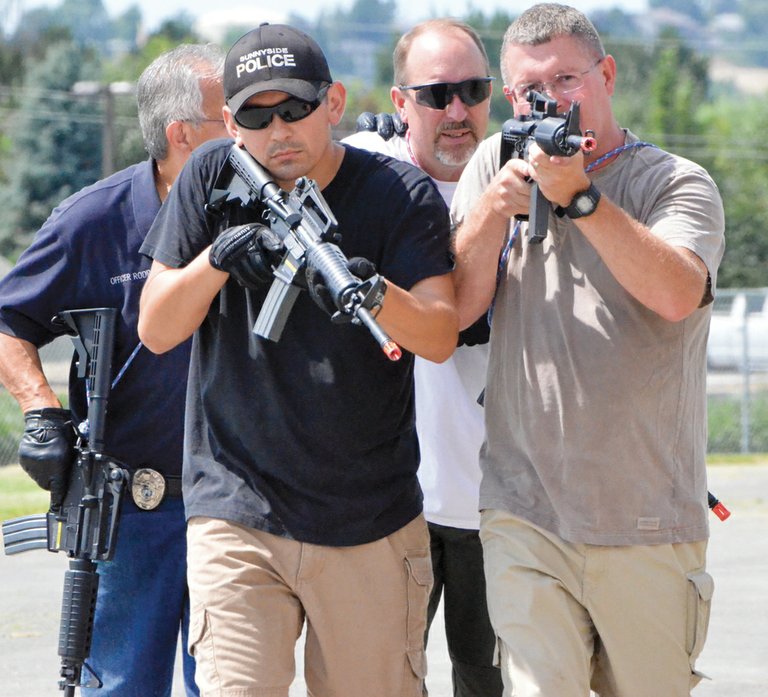 Monday, August 12, 2013
/lk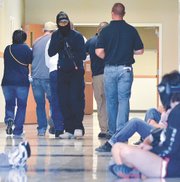 Sunnyside police officers in an effort to be prepared for extreme scenarios must undergo continued training.
That's because tactics and skills for handling varying situations must be honed for the safety of the public and the officers, according to Sunnyside Deputy Police Chief Phil Schenck.
Late last week several officers with the Sunnyside Police Department took part in active-shooter training. That means they trained for an event involving an individual and individuals with weapons.
The adrenaline was high as officers were put through their paces, going into different scenarios involving one or more potential shooters.
Several volunteers were on hand to portray potential civilians in each scenario.
The officers trained at Sierra Vista Middle School, but Officer Sam Ramos, the department's trainer, said the training is useful in any populated situation such as a mall or store.
Schenck said the goal is to have every Sunnyside Police Department officer trained to respond in such scenarios where active shooters may be involved.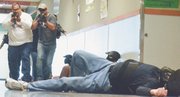 "Working with Grandview and Sunnyside trainers allow all officers in Yakima County to receive this training," said Schenck, stating it is important for officers who may be working in conjunction with one another to understand what is expected of them.
The consistency in training between agencies decreases the probability of officers misunderstanding one another and handling a situation differently between departments.
"The scenarios are adapted and increase in intensity as the training progresses," Schenck said of the two-day training.
"The hope is that we will never have to put this training to use, but we must be prepared," he said.
Receiving proper training for an active-shooter situation, said Schenck, allows officers first responding to a highly intense crime scene the ability to more quickly diffuse a situation. He said the officers won't have to stand by and await the arrival of a SWAT team before moving in to neutralize a threat.
For the training, officers use high-powered airsoft assault rifles much like the weapons used when in the field.
"We have to make it as realistic as possible," said Schenck.
"When you are hit, it hurts," he said, stating the impact isn't lethal, but the message is clearly conveyed that an officer needs to adjust his or her tactics if they don't want to be a casualty.
"As the training intensifies and scenarios become more complicated, the suspects become more resistant and aggressive," Schenck said of the training, stating officers don't know what situation they are responding to until they are fully involved in a situation. Therefore, the training must also mirror possi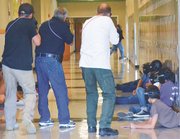 ble real-life scenarios.
The training is also important for helping officers learn how to react against their instincts. Schenck said there is a natural tendency to want to help injured civilians.
During last week's training the civilians were youngsters and Schenck said the officers had to learn how to bypass those youngsters to neutralize the "bad guys."
Schenck said the sooner the suspects can be neutralized the more rapidly the injured civilians can receive treatment for their injuries. Neutralizing the suspects makes the scene safe more quickly.
The officers spent two full days learning how to maneuver and work as teams in such scenarios. They received both hands-on and classroom training to increase the chances of a good outcome when active shooters threaten the safety of the public served by the Sunnyside Police Department.
‑ Jennie McGhan can be contacted at 509-837-4500, or email JMcGhan@DailySunNews.com