Wednesday, April 24, 2013
/lk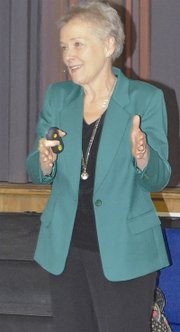 Dementia affects people of all backgrounds and it isn't easy for caregivers to know how to interact with loved ones suffering from the disease, which comes in many different forms.
Mary Sharp was in Sunnyside recently, providing tips for caregivers, helping them learn ways to provide someone with dementia the love that is needed.
"I speak from the family's perspective," said Sharp, whose presentation was open to the public at Sunnyside's St. Joseph gym.
She said her mother had dementia. Seeking ways to care for her mother, Sharp visited numerous assisted living centers and served as a volunteer in an effort to learn how to best provide her mother with care.
Sharp said she was in denial at first, however. But, seeking out ideas to provide care for her mother helped her as well.
"My mother taught me to play the cards that were dealt to me in life," she said, noting her mother never hid the fact that she had dementia.
Sharp's mother had dementia for 12 years, but the final four months of her life were very poignant. Sharp said she was able to put into practice many of the ideas for caring for dementia patients that she has been sharing with others.
Sharp said it was about focusing on the person that existed, not the part of the individual that was lost.
The six greatest needs of a person with dementia are to be occupied, to have a sense of identity, to feel a sense of comfort, to feel included, an attachment to others and love.
Sharp said there are ways to occupy one's time in a meaningful way. Her mother, who was being provided hospice care with the belief that she would only remain alive a few days, showed that being occupied can be productive.
Sharp's mother lived four months instead of a few days with the support of the family. She would remain occupied when she had a way to work with her hands.
Sharp said a person feels included and a sense of psychological comfort when those caring for them are talking to them rather than about them.
She said it is important to also understand that an individual with dementia can become depressed if they feel excluded or as if the rest of the world doesn't accept their reality.
"Accept the person they are now," said Sharp, stating it can sometimes mean becoming a great actor or actress because caregivers don't always understand the world of a dementia patient.
However, accepting the patient and acknowledging what that individual's needs are is important. She said caregivers must utilize more patience than they ever believed they had, especially when trying to connect with the person with dementia.
Her advice is to listen, nod your head and at least try to understand the words of the individual.
Those attending the presentation were asked to discuss issues they sometimes face when caring for a person with dementia.
One group of caregivers asked how to address hallucinations, and Sharp said it is best to try to step into the situation, acknowledging that the individual is indeed seeing what we may not see.
Sharp suggested addressing the hallucination in a way that may alleviate a fear the individual has.
Using an example, she said she was with an individual who was seeing a mountain covered in snow. That mountain had a river that the individual was afraid was going to swallow her up.
The patient told Sharp she couldn't swim. Sharp told the patient that she was a strong swimmer and would save them both if the river were to overwhelm them.
In dealing with loved ones who are having difficulty trusting those around them, Sharp said a great amount of patience is necessary to address the trust issues. She said trying to assure the individual is not an easy task, but a little detective work can go a long way.
Sharp said it is advisable to get to the bottom of the issue by simply discussing the individual's fears and attempting to discuss possible scenarios.
Creative observation helps with a great deal of issues, according to Sharp. She said observing behaviors can help caregivers understand an individual's needs when they are unable to express themselves.
When an individual continues to repeat themselves, she said index cards reminding the patient of an answer to a question can be helpful.
When a dementia patient withdraws from normal activities, Sharp said that may be a sign that that individual feels inadequate or as if they are no longer enjoying themselves. Perhaps, their friends are withdrawing from a lack of understanding.
Sharp said finding alternate activities is a productive way to help the dementia patient regain a sense of self-assurance.
Another topic she discussed is what she refers to as the trigger/flash phenomena.
Sharp said a person with dementia may become engaged with simple triggers. The triggers can be something as simple as words to a song or key phrases. If the individual was skilled in a specific trade, a prop used in that trade could trigger memories that lead to discussion.
Flash cards can be used to trigger discussions, as well.
"A number of dementia patients are labeled by those who don't understand them," said Sharp, stating dementia patients can be easily misunderstood.
With a little patience an individual seeking to understand the person with the disease can reengage the dementia patient.
Sharp used an example of a nun with whom she worked. Because she wasn't being understood and was perceived to be repeating just one sentence, the others around her told Sharp not to bother spending time with the sister.
Sharp, however, took the time to learn more about the sister. She discovered something about the nun that others were unaware of because of a story book.
"She asked, 'Where's Dorothy'?" Sharp said, showing the result of a conversation she held with the nun while reading the Wizard of Oz. It turned out that Dorothy was the sister's birth name.
"Creativity and imagination produce a lot of different results," Sharp said, encouraging caregivers to engage in simple creative games using items like hand puppets and bean bags.
She also encouraged them to find songs that are meaningful to those for whom they are caring, stating the patients often relax and enjoy music that meant something to them when they were younger.