Tuesday, April 9, 2013
/lk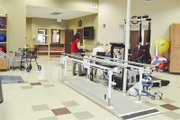 Prestige Care & Rehabilitation at Sunnyside has earned a Five-Star Quality Rating from the Center for Medicare and Medicaid Services.
The Five-Star Quality Rating system helps residents, families and caregivers evaluate the level of quality care provided by nursing and rehabilitation centers, according to Prestige Care officials. A center's rating, ranging from one to five stars, is determined by a combination of scores that consider safety, past health inspection results, caregiver and staffing data, as well as various quality measures.
"We're proud to receive this honor and attribute much of our overall success to our never-ending commitment to help our residents achieve positive outcomes and to provide quality care and from the heart," said Mary Arthur, administrator at Sunnyside.
She said, "All of our care givers work hard to promote a positive and healthy environment so that our patients and residents can achieve the highest level of independence."
To be eligible for the quality rating system, communities must meet more than 180 regulatory care standards. The five-star system encourages transparency among nursing and rehabilitation centers as the evaluation process sheds light on a wide range of the community's operations.
The rating system also allows consumers to compare the health and safety inspection results of varying communities or track the improvements a particular community has made over time.
Sunnyside is one of two Prestige Care communities to recently earn five-star ratings. Prestige Care & Rehabilitation - The Orchards, located in Lewiston, Idaho, also received a Five-Star Quality Rating from the Center for Medicare and Medicaid Services.
That agency provides full reports on the nursing and rehabilitation communities it rates on its website at www.cms.hhs.gov.
The Sunnyside location, formerly known as Hillcrest Manor and Rehabilitation, has been the recipient of a five-star ratings since 2004.