Thursday, September 20, 2012
/lk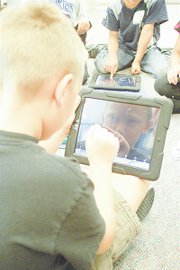 It's all aboard the tech train for some Sunnyside Chief Kamiakin Elementary School first graders.
For almost two weeks the first graders in Mrs. Doris Matson's classroom have been getting familiar with iPads.
"It's not playing, it's working," Matson said. She stresses the need to distinguish to her students that they are indeed learning and working.
The purchase of 26 brand new iPads for her classroom was all thanks to a $25,000 Washington STEM grant that Matson received earlier this year. Washington STEM is a statewide nonprofit organization dedicated to improving education in science, technology, engineering and math.
She applied for the grant this past April, and was notified of the award in June. The grant monies allotted the Sunnyside teacher to obtain 26 iPads for the students, and to purchase applications to go along with the learning needs of her first grade class.
Matson's grant-funded project, Technology Access and Math Instruction (TAMI), utilizes 26 iPads and instructional software to enhance the math instruction she provides to her students. Students are regularly using them to develop their math and reading skills through electronic drills and teaching aids, as well as familiarizing themselves with the emerging technology of tablet computers.
"I'm very excited about this opportunity to enhance instruction in math and reading, through the use of new technology," said Matson. "The students will set goals and track their progress during the coming year as they use a variety of iPad applications to improve their math and reading scores."
Earlier this week students were using the iPad in a group counting activity. When asked why writing his numbers on the iPad, rather than paper was better, student Angel Romero says you can't poke holes in the electronic device.
"When you draw on paper, sometimes you poke so hard it pokes holes in the paper, but not with this (the iPad)," he said.
Classmate Marissa Longoria says the best part about the device is the ability to turn it on, and turn it off.
"It's cool because you can turn it on and off," she said. "It's more bigger than paper."
But the benefits of this grant may extend beyond the Chief Kamiakin classroom. The data gathered from Matson's project could end up benefitting students across the state.
"We're supporting innovative educators and researchers as they develop new techniques for teaching science, technology, engineering and math," said Patrick D'Amelio, CEO of Washington STEM. "And we're taking the very best of those STEM practices and positioning them to scale up so all kids can benefit."
Matson says she's most excited to see how the students' math and reading scores improve. The best possible effect of the iPads in the classroom, says Matson, is that students stay engaged in their work.
"I'm blown away with the improvement the STEM grant has allowed our students to make through the use of the iPads," she added.
Matson says last year her students utilized the iTouch in her classroom. That alone showed exponential improvement on assessments of the students' math and reading comprehension.
The iPad, Matson says, keeps the students highly engaged and she's noticed an increased motivation to do the work she's assigned.
For Matson's first graders, it's also a lesson in technology.
"I try to take time out and teach them the mechanics of the iPad, too," she said.
Matson says she hasn't formerly been a tech savvy individual, and she's learning the ins and outs of the iPad right along with her students.
Most of all, Matson says she's also excited to see what kind improvements the students will make with this new technology readily available at their fingertips.