Wednesday, September 5, 2012
/lk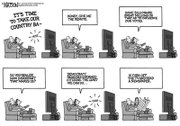 For 104 years Toppenish-area residents have been able to look to their local paper for important information.
Growing up in Toppenish, I managed to make headlines several times as a youngster, participating in the local preschool or marching in the middle school band during parades.
Toppenish is my home, and it always will be.
Working as the editor at the Review Independent in Toppenish, I felt right at home. I was able to interview many individuals who actually had a hand in raising me. I got to know the town better than I had know it for the past 25 years.
Last Friday I heard from a friend that the doors have closed for good.
That's such a bummer.
Where will the town's residents get their local information? When will they see their deserving children get the public attention they deserve? How will they know what has happened at last week's council meetings?
While it's true other larger papers cover some of the town's events, it just won't be the same.
What about the archives? I wonder what will happen to those. Nearly 110 years of Toppenish, Wapato, Zillah and Granger history lies in that archive room, and I hope it's not lost.
Now having worked there last year, I also wish the best of luck to the owners and employees of Yakima Valley Newspapers, who produced the Toppenish paper along with Viva, the Yakima Valley Business Journal and a few other publications.
It's a dark day for newspaper lovers. And though that part of the town is gone, somehow I know the citizens will come through this bump in the road.