Thursday, October 11, 2012
/lk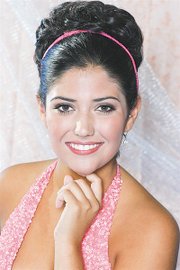 After a five-year hiatus, Marlee Lane has decided to re-enter the pageantry scene.
For much of her preteen, teen and young-adult life, Lane has competed in too many pageants to count. She's earned several top honors, titles and crowns, including Miss Washington as a preteen, Regal Majesty Royal Supreme and lastly, she served on the Miss Grandview Court.
For more than five years Lane has been out of the pageant game, but has decided to figuratively get back on the horse.
This 24-year-old has decided to be a contestant in the Queens for a Cure Pageant that is scheduled for Nov. 3.
As part of the competition in the pageant, contestants are to raise money for the American Cancer Society. The pageant as a whole, will then donate all of the contestants' contributions collectively.
To help raise funds for breast cancer research, Lane will stage a cancer awareness event to take place on Thursday, Oct. 18, at Centennial Square in downtown Sunnyside.
Luminaries, to honor current patients, cancer survivors and those who lost the battle with the disease,
will be displayed and lit at 6 p.m.
There will be markers and glue sticks for participants to get creative so the bags can be labeled with the honorees' name, messages or pictures in their honor.
Luminaries will be lit until midnight.
Luminary bags can be purchased the day of the event, and will cost $5 each or five bags for $20.
As they are purchased, decorated and lit the luminary bags will be lined up along the walkway. All proceeds will be donated to the American Cancer Society via the Queens for a Cure Pageant.
For more information, contact Teri Alvarez-Ziegler (509) 831-6665.