Thursday, October 11, 2012
/lk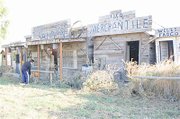 The old west town located at Lava Rock Nursery in Sunnyside is being renovated into a pumpkin patch and kiddie corral that will be open the last two weekends in October.
Redbo Farm Fall Festival will be opening Saturday, Oct. 20, at 10 a.m. and will include an Airsoft paintball target range.
Running the show is Jenny Burrell, who operated a similar operation in Enumclaw the past few years. Burrell has enlisted the help of her sister, Sunnyside High School teacher Beverly Beierle, and her family to make the event a success.
The pumpkin patch, opening the weekend of Oct. 20-21, will offer a variety of pumpkins for people to purchase. Entry into the patch is free, but the kiddie corral has an entry fee.
"We're doing a little agritourism," said Beierle as she worked to clean up brush that had overgrown the site.
The western town was originally put together by Lava Rock Nursery's former owner, Gary Warwick, and his wife, Billie, in 2005. It was left unattended and unused for some time, but Burrell is renting the area from current owner Guy Auld.
Beierle said the plan is to start with the weekends in October and see if the business it draws will justify keeping the area open longer. They hope to keep the Airsoft range open for local paintball enthusiasts past October.
The kiddie corral will feature a bouncy house, train and various activities in the old west town. The weekend before Halloween, the site will also include a haunted house.