Monday, October 1, 2012
/lk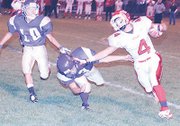 MABTON - Fielding a starting line-up filled with freshmen and sophomores due to eligibility issues, the Mabton Viking football team hung tough before dropping a 36-8 decision to visiting White Swan last Friday.
The game was closer than the score appeared, as Mabton trailed just 14-0 in the final moments of the first half before the Cougars picked off a Viking pass attempt and returned it for a touchdown to go into the halftime locker room up 21-0.
White Swan tacked on two more touchdowns in the third quarter to put the game away. Mabton looked like it might crack the scoreboard in the third, but fumbled away the ball at about the Wahluke-10.
Mabton, though, still had plenty of effort left and earned its highlights on both sides of the ball in the fourth and final quarter. On offense, the Vikes finally found success when Roy Zavala lofted a 35-yard halfback pass to Josh Carrasco for a touchdown.
Defensively, Mabton had a standout fourth quarter, recording a safety. Albert Sanchez provided another highlight for the Vikes in the final stanza when he intercepted a White Swan pass.
It was far from enough, though, to keep up with White Swan.
"Our offensive line is young and small and didn't give our quarterback enough time," said Mabton Coach Trevor Curtis.
Besides grabbing a touchdown pass, Carrasco was also Mabon's leading ball carrier with 42 yards on 10 rushes. Viking quarterback Nico Pina was 7-for-22 passing for 52 yards through the air.
On defense, Curtis said his team gave a good effort.
"I thought defensively we played one of our better games," he said.
Mabton will look for its first win of 2012 this coming Friday when it hosts Tri-City Prep for homecoming.
"Were staying positive and looking at it as a learning experience," Curtis says of his young team's season. "We'll go out and try our best every game."